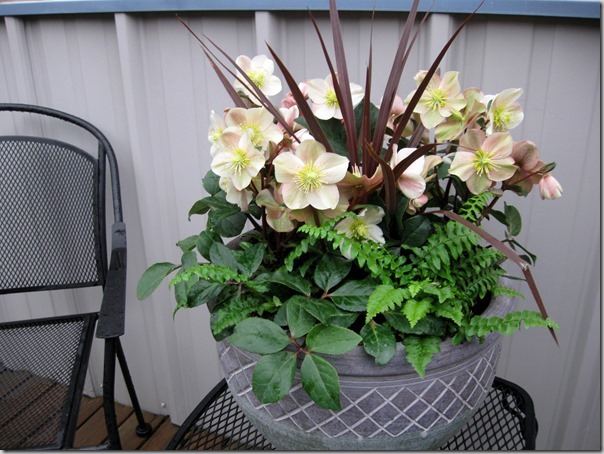 Hellebore photo courtesy of Skagit Gardens
What's that, my fellow Humboldtians? Time's gotten away from you yet again, with no gifts purchased and only a short time until Christmas? Never fear, I've got you covered.
I called up a variety of local shops to find out which gift they'd most recommend for the gardener on your list. Whether you're looking for a hostess gift for that kind somebody who keeps inviting you over and stuffing you full of delicious flavors, or something special (and oddly-shaped) to put under the tree of a loved one, these eight gifts are sure to rack up bonus points with your favorite muddy-booted pal. Japanese gardening hoe, $22-$46, The Garden Gate I love giving long-handled garden tools as a gift, because they present so many fun ideas for wrapping them. Pink paper and brown ribbon could become an earthworm, or you could make a peppermint stick out of white paper and red ribbon. With that in mind, I found The Garden Gate owner Kate Christensen's suggestion thrilling: Japanese gardening hoes. These things have a sharp, sturdy head forged from spring steel, and it's perfect for this time of year when you want to weed without kneeling down in the muck. Kate says that the pointed tip makes them useful for getting into tight areas when weeding, and you can also use it for creating planting furrows or small trenches. It comes in two versions; the Sankaku hoe is 16 inches long, while the Batchi Gata Kuwa hoe is 47 inches long. "It's my favorite tool right now," says Kate.
Gardener's Hollow Leg, $29.99, Miller Farms Nursery At this time of year, I don't necessarily want to dig into huge gardening projects – I enjoy just nipping out for a few moments and pulling some weeds to de-stress. So Kristina Bascochea's tip about this little-known accessory seemed apt: it's called The Gardener's Hollow Leg. It's a fabric sack with a ring around the top which is attached to a belt, so you can strap it on when you're heading outside and use it as a handy place to drop trimmings. Attach your pruner holster or clip a hori-hori to it, and you'll be all set for a quick round of weeding, deadheading, or harvesting herbs and winter greens. It even has a Velcro pocket for your cell phone. Kristina says it's a really handy tool, but not a lot of people know about it, so it would be a good gift for the gardener who already has it all.
The Drunken Botanist Book, $11.98, Eureka Books Humboldt garden geeks are incredibly fortunate to have New York Times best-selling author Amy Stewart as a local. We've read her Drunken Botanist column in the North Coast Journal, gotten to hear her talks before she takes them on the road, and now there's a great deal on her latest book in Old Town, at Eureka Books. The Drunken Botanist is about the plants that create the world's great drinks, and combines witty commentary and fascinating stories with drink recipes and growing tips for gardeners. It's one of those books that you can read right through like you would a novel, or dip in and share tidbits with guests, so it would make an ideal gift to give during a lively social gathering. Pair it with a few potted herbs or a bottle of something delicious to round out a gift basket.
Locally-made birdfeeders and houses, $17-$90, Strictly for the Birds While you're in Old Town, consider stopping by this charming little shop which, as the name implies, has everything you need to invite some feathery squabbling and chirruping into your life this winter. The owner, Cathy Michaels, has a variety of feeders and birdhouses made of redwood, decorated with local driftwood and pinecones, and specially designed for birds in our area. "For instance, we have two different chickadees here," she says. "The chestnut-backed chickadee and the black-capped chickadee. We have a birdhouse here that will accommodate either species, and the holes are the right size to eliminate larger birds like house sparrows and starlings."
Blooming Lenten rose, $12-$32, Pierson's Garden Shop When heading out to visit with garden-loving friends, you could pick up a bouquet of flowers, or you could bring them something a little longer-lasting from the nursery. Many varieties of Lenten rose, Helleborus cvs., are in full-on bud and flower right now, and Lydia Rieman of Pierson's Garden Shop says, "We have a great selection of Helleborus, many varieties in various pot sizes. This is a hardy cold weather perennial that blooms winter to spring." Because Lenten Rose is happy in shade, your giftee can tuck it into a forgotten corner of the garden once it's stopped blooming indoors and wait to enjoy the show again next year.
Christmas Cheer Rhododendron, $30, Singing Tree Gardens A rhododendron that blooms at Christmastime? It sounds too good to be true, but R. 'Christmas Cheer' is one of the few rhodies that will. "Some people say their Christmas Cheer spot-blooms as early as October, and then comes into full bloom around Christmas or just after," says Don Wallace, co-owner of Singing Tree Gardens. "It reaches five feet tall in 10 years, grows wider than it does tall, and has light pink flowers." Like many rhododendrons, it's also a tough, hardy plant, "not finicky at all," Don says. They have a number of good-sized shrubs that are well budded for gift-giving and should be blooming by January.
The Soil Scoop, $19.99, Mad River Gardens While all gardeners have a few mud-encased trowels kicking about, there's an upgrade that most people haven't yet tried: the soil scoop. "It's a pretty groovy tool," says Kirsten Leeper of Mad River Gardens. The scoop has a pointed tip and serrated sides, so you can cut through weed mat and plant with the same tool. "You just push the tip in to make a hole, use the serrated side to cut the fabric, then use as a scoop to dig in the soil," she says. It has a birchwood handle, so looks attractive sticking out of a stocking, or you could combine it with an array of spring bulbs and package it up in one of those colorful rubberized Tubtrugs buckets that are all the rage with the gardening crowd for a more impressive gift.
Herbal and floral wreaths, $18-$50, Flora Organica (Arcata Winter Farmer's Market on Saturday) While conifer wreaths make a great decoration this time of year, herb wreaths, dried flower wreaths, and chile wreaths are gifts with staying power. The dried flower wreaths are elegant at the front door, while herb and chile wreaths can double as kitchen decor. Small ones can also be used as table decorations. The best part about herb wreaths and chile wreaths is that they're not just decorative; because they are organic and made of edibles, you can pick off chiles and bits of herbs all year to use in the kitchen. The herb wreaths are made of rosemary, sage, bay, rose hips, lavender, and variegated boxwood for color (don't eat the boxwood!), while the chile wreaths are made of Yasa Fusa chiles and bay leaves. And picking up a wreath is a great excuse to check out the newly expanded winter farmer's market on Saturdays in Arcata, which has 15 stands and tons of vibrant winter vegetables.