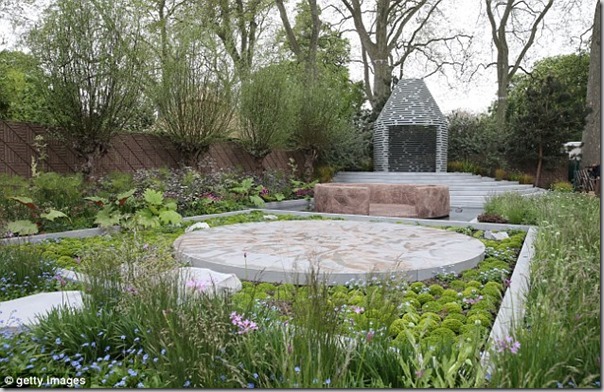 Kicking things off, the UK's Daily Mail reports on the Chelsea garden show display that was codesigned by Prince Harry in honor of his charity work with AIDS orphans. While I hardly think of the partying royal ginger as a landscape designer, and would give most of the credit to the garden's creator Jinny Blom, the fact remains that it's a rather gorgeous and exciting display.
A lot of times, people confuse a naturalistic theme with one that is random and lacking in shape. This garden is a beautiful example of how simple geometric shapes can frame and bring polish to a planting scheme that might otherwise appear disordered or frenetic. I mean, just imagine all of those scruffy grassy things and wildflowers without the square frame, circular patio, and other permanent features. It wouldn't work nearly as well.
This is great to remember for designers who use a lot of natives, or who love the wildflower and meadow look which has been so popular for many years. Don't be afraid of choosing some formal or classical shapes. A clean design and layout provide enough contrast that you can balance it with wilder looking plants.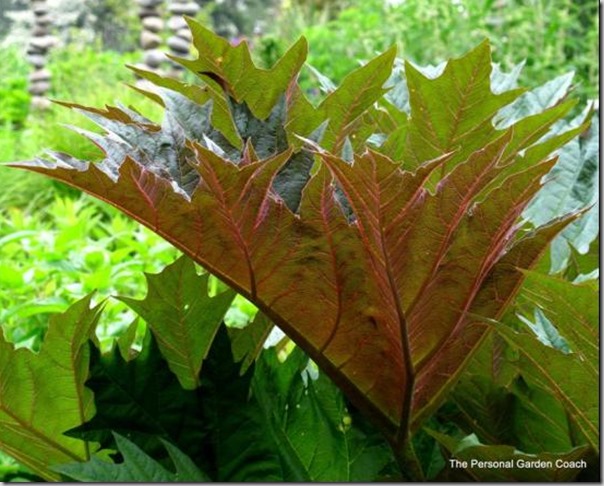 Next, the gals over at Fine Foliage have a lovely post highlighting some effective shade combinations with foliage. What I love about both their book and their blog is that their photography is so effective at illustrating their points about how to use different colors of foliage and different textures effectively. If you like what you see on their blog, definitely pick up their new book Fine Foliage, as it is as packed full of photos and foliage design ideas as their blog posts are.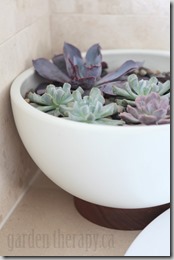 Then, Stevie at Garden Therapy has a giveaway for a beautiful modern planter. She's planted hers with succulents which is definitely what I would've done (so pretty!), but you could pop whatever you like in there. Stevie's posts are always so full of eye candy that even if you don't plan on replicating her projects exactly, you can still get tons of great design ideas. I'm actually really taken with the idea of the little wooden plinth set underneath these dish planters. I've seen a number of wooden rings at decor stores which are meant to be used for, well – other things – but could easily be repurposed to give a plain planter a midcentury twist.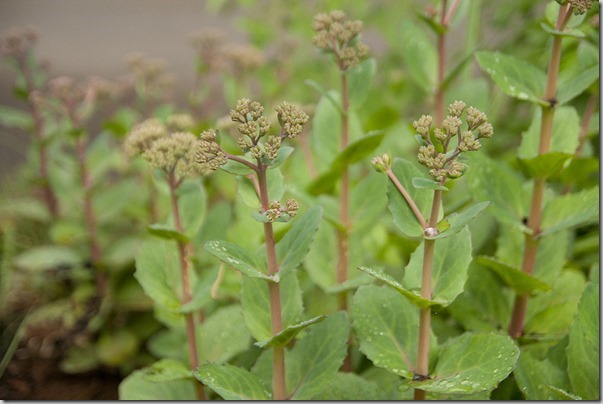 Lastly, Thomas over at Grounded Design recently recommended a blog called Rhone Street Gardens, subtitled Adventures of a Garden Geek in Portland's Brooklyn Neighborhood. I love this! While I'm not usually a fan of personal garden blogs which only talk about the experiences in one garden, Scott's writing and photography are so appealing that I found myself lost for some time reading his musings and adventures in design. His writing is personal, yet the ideas he shares are easy to apply in your own garden. Go on over, have a read, and see if you don't agree.
That's it for this week's Monday Miscellany. As always, if you have seen anything cool around the web this week, let me know in the comments below.