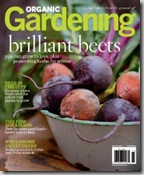 While I do most of my reading online, I still have a weakness for actual print magazines. My favorites are Fine Gardening and Urban Farm, though I read a wide selection of gardening rags just to keep up with the latest and greatest.
Though my two top faves never ever seem to go on sale (grrr), a lot of my other regular reads do go on special from time to time – often enough to stay subscribed at very little expense.
But I can't say I have EVER seen Organic Gardening go as cheaply as it is right now – $5 for a TWO year subscription, now until December 3rd/ Monday. Holy moly. I jumped on that so fast I didn't even think to charge it to my business account for the writeoff. A two-year subscription to Organic Gardening would make a fantastic Christmas gift to anyone who likes to grow their own food.
Some other home/ health/ garden deals through Dec 3rd:
And shall I say it again? TWO YEARS of Organic Gardening for $5!
If you've never ordered magazines through Amazon before, I'd highly recommend it. If you've ever moved or wanted to renew and ended up with some hassle related to that, you can see the appeal of being able to adjust and manage all your subscriptions from your Amazon account dashboard. Just go to Your Account –> Manage Magazine Subscriptions –> and you can see all the subscriptions listed with buttons to edit anything you want.
It's a one-click matter to turn auto-renew on and off, change the shipping address, edit or cancel subscriptions, etc. You can even add magazine subscriptions purchased elsewhere to your Amazon dashboard so you can manage them all from one place, which makes things so much easier.