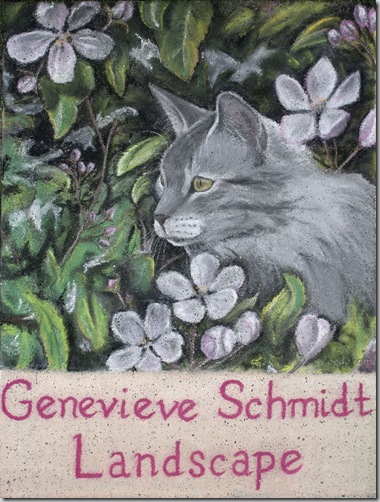 For Humboldt locals, the first October weekend of every year means one thing: Pastels on the Plaza. This event pairs artists and businesses to raise money for the North Coast Children's Center. Each business sponsors a sidewalk square on the Arcata Plaza, and the artists volunteer their time to decorate a square in honor of their chosen business, all for a good cause.
This is our fifth year taking part, and I couldn't be prouder of my artist, Trevor Shirk. Every year I wonder how he's going to manage to surpass his previous year's effort, as I'm always blown away by his work.
This year he took on the ambitious project of transferring our kitten's sweet personality and fluffy good looks to a sidewalk square in honor of my landscaping business.
This is nothing like sketching on a piece of paper, either. The sidewalk is bumpy, uneven, has little pebbles that don't take color well, and is nearly impossible to color on with any level of control. Well, that's how I feel about it, anyway. I did the lettering, and after an hour of meticulous work I was ready for a nap. Trevor sketched from 730am to 2pm to create his masterpiece. And yeah, I'm probably biased, but I think it was the very best one there!

Some other pics from the event:
If you want to see more of the finished squares, Trevor has a write-up of the whole event over at his blog. Can't wait for next year!
More years of Pastel art in Arcata:
Pastels on the Plaza 2012 (this year)