Ever since
Plants VS. Zombies
came out a few years ago, I've been increasingly aware of the effects of the zombie scourge on our landscapes. I mean, you could be enjoying a peaceful afternoon sunning yourself in the garden, and all of a sudden,  you hear the ominous sounds of the slavering undead coming closer. While they're not terribly fast, they can be hard to deter. Bullets go right through them, and while baseball bats can be effective, who wants to get that close? Zombies don't smell very good. Thank goodness for garlic. While we think of garlic as repelling vampires, it actually does a pretty poor job of that, a fact which
True Blood
fanatics will be aware of. Where our allium-licious bulbs shine however, is with zombies. You'd think the aura of dust and decay surrounding zombies would make them oblivious to the scent and flavor of garlic, but there you'd be wrong. Zombies are fascinated by garlic and feel compelled to taste it, and are then overcome with disgust and move on to the next garden.
An example of zombie-repelling landscape design (photo from PCGamer magazine):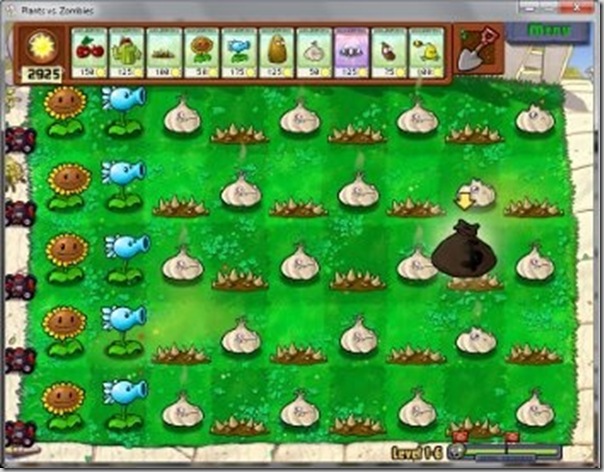 So plant garlic around the periphery of your landscape, and give some to your nicest friends, family and neighbors. The zombies will move from garden to garden, sampling the fragrant bulbs, saying "blech!", and moving to the next garlic patch until they come to an undefended parcel of land with no garlic defense system in place. This may belong to the nasty character down the street who gives out raisins at Halloween (not even the chocolate-covered kind), or the jerk who drives his noisy homemade scooter up and down the street at breakneck speeds, thinking that all the commotion and smoke belching out the back makes him more attractive to the ladies (as if). I'm not saying we want them to be eaten by the zombies, just that if we only have so much garlic to go around, let's share it with the people who give out homemade Christmas cookies and have nice cats and call us "dear". Anyway, with the zombie scourge in full effect, it may be difficult to find ample supplies of quality garlic. And you don't want to stick with just one kind, either – zombies have surprisingly complex palates and may develop resistance to garlic if we all plant the same type. That's where
Peaceful Valley
comes in. This company has loads of seed garlic all ready to plant, plus tips on how to grow it successfully, choose the best varieties, etc. The best part? Peaceful Valley's an organic company, so if you are able to eat some of your garlic before the zombies ravage it, you can be happy knowing that cancer won't get you before the zombies do. (I know, I'm a big bundle of cheer!)
Anyway, Peaceful Valley has been kind enough to offer up a great big garlic prize package to one reader of this site:
1 pound of Russian Red
organic seed garlic
(Russian Red is a variety that thrives even in soggy soil, so all y'all in the rainy Northwest will be particularly happy with this one!)
1 quart of
Liquid Kelp
(for soaking the cloves overnight before planting)
10 gallon Smart Pot
(to plant some in a container)
1
Garlic Twist
(a clever kitchen gadget that minces the cloves when you twist it; easy to use and clean)
1 5×7 photo print of your garlic, so you can stand in honor of the plant that is keeping you and your family safe from the undead hordes just outside your home.
 EDIT: Congrats to Maggie Wann, our winner!
Disclosure: Peaceful Valley sent me some free garlic to write this post, but I think that's just because their marketing director Charlotte likes me and doesn't want to see me fall prey to the dusty undead. All opinions about zombies are my own.