Kicking things off this week, Susan Morrison of the Blue Planet Garden Blog has a fantastic post about her visit to Keeyla Meadows' garden, and all she learned. Meadows is, of course, the author of Fearless Color Gardens, a book that will help you loosen up, have fun, and personalize your garden to your true tastes and not someone else's generic idea of what looks good.
I loved the photos Susan took of the garden and all I was able to glean from them. Go on over and have a look.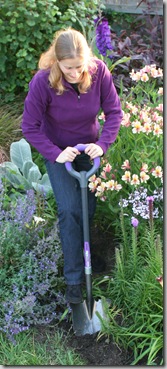 Next up, you may remember me raving on these Radius PRO and PRO-Lite shovels over at Landscaping Network. The PRO line is a heavy-duty, rust-proof stainless steel great for planting or dividing, while the PRO-Lite line is lighter-weight carbon steel for repetitive digging tasks like shoveling compost.
Anyway, the whole line of digging tools just got cooler. While the line initially came in a stylish lime green, the problem with lime green is that it just isn't purple enough. Radius cleverly fixed this with a new line of PURPLE FREAKING SHOVELS. And the tone of purple they chose? It's perfect. When the box of purple goodness arrived, it felt like Christmas.
Favorite shovel + favorite color = very happy Gen. (Oh, and for anyone suspicious of the O-shaped handle, you just have to try it to see how great it is. The wide O gives you room to get a solid two-handed grip. Love it!)
Amy Stewart over at Garden Rant just got sucked into Pinterest with the rest of us, and she highlighted a few of her favorite boards to follow on Pinterest. Among the best are Jayme Jenkins' garden cocktails, Debra Lee Baldwin's gorgeous glass, and Dee Nash's espalier ideas. Of course, Amy's own boards are nothing to sniff at, with her cocktail-themed paint colors and cocktail garden ideas.
If you want to connect with me on Pinterest, I'm NCoastGardening. I'd love to follow you back and see what you're up to!
Steve Asbell of The Rainforest Garden is a fantastic artist, but he doesn't want to keep all the glory for himself. In fact, he thinks that every gardener can be an artist. He says,
"When it comes to art, talent is a bit of a myth. You know why I'm 'talented'?  My childhood teachers told me I was a good artist, so with my new-found confidence, I continued to fill the pages of countless coloring books. My mom was also an artist, so she showered me with encouragement and guidance along the way.

Artistic talent boils down to these things: Confidence, motivation and persistence."
Read more from Steve about how you too can become an artist. He knocks down all of our excuses and even offers to give his own critiques and encouragement to all of us.
And two last bits of breaking news:
Phil Nauta, who did an awesome guest post recently about feeding soil microbes, has come out with a new book!  Building Soils Naturally is an in-depth primer on all things soil. While this isn't summer beach reading, if you're a passionate gardener, learning the chemistry and practical how-to behind how your soil functions is a critical step in creating a beautiful and healthy garden. Phil's tips even promise to provide better-tasting fruits and veggies! (That's worth $20 to me.) Go, check out his book.
Carole Brown of Native Plant and Wildlife Gardens has a post about using design techniques to create a beautiful wildlife garden. With tips from Debbie Roberts, Vincent Vizachero and myself, the post is a good rundown of some of the basics involved.
That's it for this week. If you're on Pinterest, be sure to leave a link to your Pinterest account so I can follow you!