First up this week is Theresa Loe from Living Homegrown, with an article about Polyface Farm, a place where they're changing the face of agriculture one acre at a time. Reading this, I'm struck by how lucky we are here in Humboldt to have access to local grass-fed beef and dairy products. I love the insights she shares from her tour of Polyface about the role each of the animals plays in keeping the land healthy and productive.
How Polyface Farm is Healing Land One Acre at a Time
Steve Asbell from The Rainforest Garden geeks out about exotic fruits and will make you long for a trip to the tropics with his post about exotic fruits that taste like dessert. Vanilla ice cream-flavored bananas? Yes, please! Lest you think Steve's a slacker who just likes to think about dessert all day, the guy even illustrated the entire article himself. Now that's dedication.
Five Exotic Fruits Ripe for Dessert
Ever wondered why supermarket tomatoes are so tasteless and weird compared to the homegrown kind? NPR's All Things Considered has the story.
How The Taste Of Tomatoes Went Bad (And Kept On Going)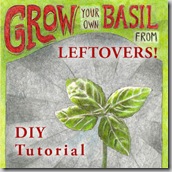 Stevie Rose from Garden Therapy has a special DIY tutorial for those of you who love tomato-basil sandwiches this time of year. How to grow your own basil from leftovers! Apparently you can root cuttings from the basil you buy at the store. How have I gone all these years and never learned about this? Anyway, she's put up a very pinnable tutorial graphic that's both gorgeous and clearly explanatory (with help from that talented Steve Asbell guy – he's everywhere!)
Lastly, in case you missed my recipe last week for a great one-dish vegetarian meal, here it is:
Mustard Butter Pasta with Fresh Garden Veg
That's it for this week, folks. Seen anything cool for foodies recently? Let me know in the comments below!