Some great articles this week! Kicking things off, garden designer Jenny Peterson is celebrating The Week of the Fig. Apparently out in Texas their figs are actually ripe already (oh yeah, they get real live actual sunshine there – that explains it), so she's got a round-up of some of her fave fig recipes as well as some from around the web.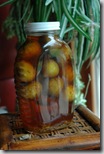 The one I most want to try? Drunken figs. Yes, you heard me right. She also has figs in nightgowns (with Nutella OMG), figs with goat cheese and prosciutto, plus a grab bag of some cool recipes from online friends.
Next up, fellow Roundtabler Thomas Rainer deserves some serious kudos for his awesome idea for an article – Native Plants for the Cottage Garden. He just wrote an article for The American Gardener magazine on this topic, and they've been so kind as to offer his list of native plants from around the country that fit an English cottage garden theme as a free online special.

If you already understand that planting natives is one of the best things you can do to support your local wildlife and see more butterflies, birds and other life in your garden, then you may have wondered how to use natives to best effect. Articles like Thomas' are so important not only for the specific information provided, but just reminding us all of the idea that our locally-adapted plants can be used in a variety of ways in the landscape. You're not stuck with a wildflower meadow or something scruffy – you can use these plants in any design style you wish.
Lastly for the week, Margaret Roach has a fantastic tutorial on what to do when your tomato plant is looking iffy. Margaret's the queen of simplified gardening advice, and her clear guidance and photos can help anyone from a beginner to a more advanced gardener tackle their tomato troubles. If you have questions, head on over and see if Margaret has the answer.
That's it for this week, folks. Seen anything cool around the web? Leave a comment and let me know!