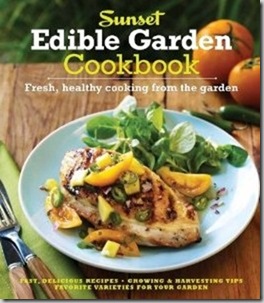 A month ago when I visited San Francisco, Sunset Publishing invited me (and a number of other garden writers) over to breakfast. Never one to turn down either free food or a garden tour, I accepted with glee, and ate as much of their fresh, delicious food as I could fit in.
(The plate shown at top, I hasten to add, was not my own. Mine contained a heaping slice of zucchini chocolate walnut cake with rum sauce which dwarfed all of the non-cake items on my plate. Hey, it had zucchini and walnuts in it! And rum! All healthy breakfast foods in my book.)
While my caffeine hadn't yet sunk in to the point where I can remember all the details, one of the highlights of the breakfast was how much of it was fresh from the garden. (Did you know Sunset even keeps chickens in their test garden?) The flavors were delicious – nothing like fresh herbs and greens to amp up the star power of a meal – and what really struck me were some of the techniques they used.
For example, their roasted potatoes had that perfect balance of crunchy outside and creamy inside which is hard to reach (mine usually end up burnt and desiccated before they get crunchy), and they explained their top-secret trick: by soaking the potatoes overnight in a bowl of water, you get both more crispness and more moisture in the middle. Score!
That trick is totally in the book, and they explain everything in a goof-proof fashion that's easy enough for kitchen klutzes like me, yet they have enough tricks in here that experienced chefs will find a lot of ideas. This truly is a cookbook for gardeners wondering what to do with their bounty, and they've arranged it so that you navigate the recipes by what produce you have fresh, either from the farmer's market or your own garden.
And they definitely understand gardeners. You can tell because they have multiple zucchini-hiding recipes. I don't know about you but a productive zucchini plant starts to challenge my love of vegetable gardening. After about four weeks of zucchini at every meal, I start wondering if perhaps the lawnmower might not have something to say to my zucchini plant. But Sunset graciously anticipated both my thrifty nature and my love of dessert and included some recipes so I can use the zucchinis up without having to look at them or even feel like I'm being healthy. Phew! Zucchini problem solved.
Anyway, I'm sorry the internet won't allow me to share any food samples (and zucchini), because you're probably getting hungry right about now. But I've got the next best thing – Sunset has offered up FIVE copies of this cookbook to you lovely people. All you have to do is comment for your chance to win one. And since Mother's Day is coming up and this would make such a great gift for moms, I'll pull the winners on Mother's Day morning, so if you've won, you'll have a bit of extra good cheer to spread around. US only. Good luck! Congrats to Linda, Kate, Coco, Kristin and Geri! I've emailed you all.