One of the things I love best about being a garden writer, besides all of the gardening and the writing, is the loot. Getting to try free plants before they're even out in the nurseries? Yes please! My idea of heaven.
So last week, when my box full of 2013 Proven Winners plants arrived, I was all excited to dig in and start planting. (A tip to my fellow garden writers: if you haven't yet started making hanging moss baskets, the Proven Winners loot box is a great reason to start!)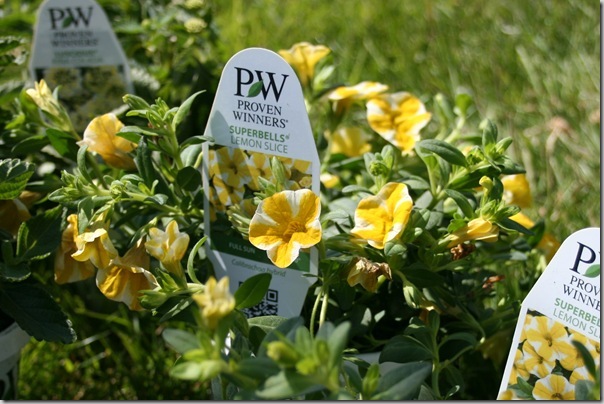 While I'm not usually a fan of the warmer colors, one of my favorites in the box was their new Superbells Lemon Slice Calibrachoa, a sun-loving million bells with cream and yellow stripes. Using deep purples with lemony yellow flowers is a new garden trend (hat tip to Jean Ann Van Krevelen!) that I love, since it mixes those deep dark colors that feel so modern with just enough good cheer to keep us smiling. Or, you can use yellows or any color in a monochromatic scheme. It's one of those designer-y tricks that elevates your plants into being instantly stylish.
Another of my favorites is that Colorblaze Marooned Coleus which you can see being all dark and broody at top. The way the light shines through it is glorious (reminds me of my Cotinus 'Grace' shrub), and I can totally imagine it with some deep purple or rich orange flowers for an exotic, tropical look.
Cleome's a new-to-me plant that I am not sure will grow in my mild climate, but I am excited to test. In hot climates, Cleome's a vigorous grower, and the spider-like blooms look like little fireworks on top of the foliage. Just, erm, don't plant it out front if you're near a high school. The foliage looks a bit like another plant that we often grow here in Humboldt, enough so that an inexperienced goof-off might steal your Cleome for nefarious purposes.
The boxes vary, since Proven Winners releases a number of new varieties each year, but rest assured that if you like container gardening or creating color displays, you'll have fun with the contents. Your box might include:
• Superbells® Lemon Slice Calibrachoa
• Senorita Blanca® Cleome
• Luscious® Berry Blend Lantana
• Blushing Princess™ Lobularia
• Supertunia® Watermelon Charm Petunia
• Colorblaze® Marooned Coleus
or other surprises!
Want to win your own giant box-o-flowers? Lucky for you, Proven Winners has offered one up just for you guys. This box is nothing to sniff at, in fact it's big and thrilling enough that my UPS guy even looked jealous (I have no idea if he gardens). Anyway, it's yours for the taking if you're the winner. Just leave a comment and I'll choose a winner at random on May 16th! US only. Good luck! EDIT: Jen is the winner! Congrats, Jen!
Disclosure: I'm a paid blogger/ Garden Guru for Proven Winners plants, and they sent me these plants to try as well as provided the box of plants for the giveaway.