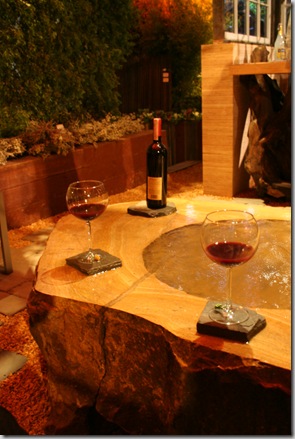 There was so much inspiration from the
2012 San Francisco Garden Show
that I am still sifting through it all weeks later. One of my favorite pieces in the entire show was this stunning table and fountain made of a solid piece of stone from
McKenna Landscape
. It has a recirculating pump which allows a gentle sheet of water to cascade over the top of the fountain and down the sides. Since the surface tension holds the water against the sides of the table, you're not getting splashed as you enjoy sitting there. They displayed this innovative table/ fountain hybrid with stone coasters and glasses of wine. As soon as I saw it, I just wanted to dive into having that kind of life where you get to come home after work and enjoy the sunset with a glass of wine and such a beautiful centerpiece.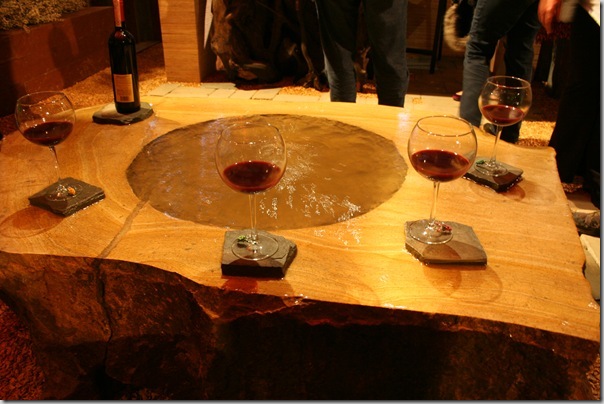 Here was the designer's sketch, showing some of the repurposed elements used in the landscape: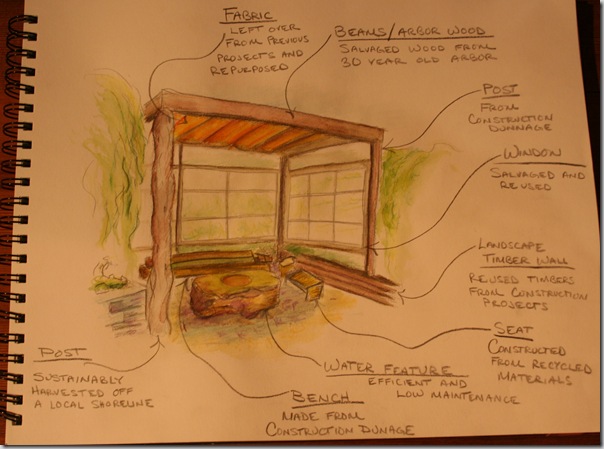 Shockingly, the fountain wasn't even that expensive given what it was. I believe the McKennas said that it would be around $3500 to purchase and install a unique table fountain like this. Given that this is the sort of piece that can make the entire garden surrounding it feel special, it seemed like kind of a bargain to me. McKenna Landscape won all kinds of awards at the show, and their young designer
Leslie McKenna
(she's only in her mid-twenties!) was beaming ear to ear with all the
much-deserved attention
. It makes me feel fantastic to see someone so obviously passionate about innovation at such a young age. Can't wait to see what else she and her family's landscape business will create in the future.
Read more about the innovative stone work at the 2011 show and the 2012 show.