There's nothing quite like breaking into a fresh jar of yellow plum-infused liqueur or pear gin at the start of winter. It's like a bottled bit of summer sunshine. And ever since we've figured out precisely what to do with all of the fruit and vegetables I've been growing, my nursery trips have been most enthusiastic when they involve growing food (yep, I'm one of those people that looks up from breakfast and wonders what's for lunch!).
Unfortunately, since I'm gardening on a suburban lot, space has quickly become an issue. So when I read that this fruit tree book was coming out that focused exclusively on gardening in small spaces, I was sold.
Finally, a trustworthy source to tell me whether that newfangled "planting-four-trees-in-one-hole idea" is actually effective (he says yes, and gives a link to more resources!). I was also keen to learn pruning and care techniques for helping trees take up less space in the garden.
In the first half hour with the book, I'd learned an excellent trick for keeping plants small: Summer pruning. Apparently by removing some of the leaves before they've had a chance to collect the full season's worth of sunshine, you dwarf the plant's growth. By following up your summer pruning with winter pruning cuts made close to the branch rather than close to the tips, you send the tree a signal that it has filled its allotted space, and it slows down a bit. This tidbit was worth the price of the book all by itself!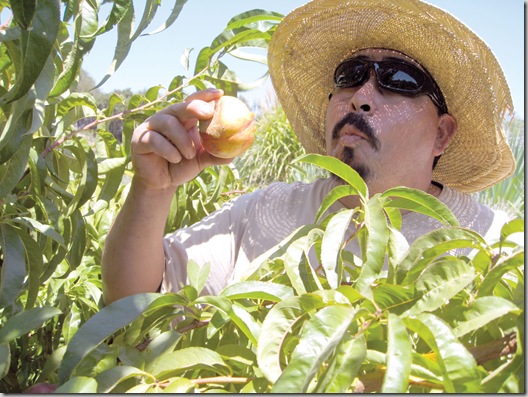 The book has a cheerful and laid-back spirit. Eierman talks about having beers and sitting around the fire in his backyard, and the photos of the gardens and his friends enjoying the bounty of fruit were so normal and do-able that I felt quite relaxed about my ability to grow great fruit. It's not a design book, though he includes some design tips; it's more about that connection you feel when you're able to grow things successfully and have a fun space to interact with and enjoy. You can see he has that and wants to share that joy with all of us.
The book includes a brief listing of some of the varieties available in each category of fruit, and shares some generalized tips about what types of climates each variety prefers and what kinds of diseases you might encounter. There is even an extremely useful chart about which types of rootstock have which characteristics. That's certainly been bookmarked!
The only thing I found frustrating was that he didn't give much specific advice about how to choose varieties for our individual climates, which is a pretty big omission. While I agree with his advice that we ought to check with a local extension agent or old-timers in the area to learn what grows well, I feel strongly that each entry for a variety should have included the chilling hours needed as well as a few examples of pollinizers so this book could have stood by itself as a reference.
Even so, Eierman has enough practical, on-the-ground experience growing fruit that if you read even portions of the book, you'll find yourself with a pretty thorough understanding of how to grow fruit trees successfully, and his energetic good nature will have you circling pages and excited to get up and try some of the techniques and varieties he shares.
Want to win a copy of Fruit Trees in Small Spaces
? Timber Press has been kind enough to offer a copy to one lucky reader in the US. To win, just leave a comment below, and I'll pick a winner randomly on Monday April 16th. Good luck!  Congrats to Amanda, our winner!
Photo credits: Colby Eierman (of his friend Francisco eating fruit), and Erin Kunkel (of potting up a citrus plant)