Starting up this Monday's fun we have the ever-delightful Christina from The Personal Garden Coach with a post on how to divide your Heuchera plants! After a few years, Heucheras start diminishing in their foliage and get a little leggy, and this, Christina says, is the perfect signal that it's time to divide.
Not only does this multiply your Heuchera bounty (Heck, they're the priciest plant per square foot in my garden- I'll take as many more as I can get!) but dividing also protects the health of your plants for another four years. A win all the way around.
Next up, Fern from Life on the Balcony has a cool tutorial on making those succulent frames we've been seeing everywhere. Turns out, with some succulent cuttings, a dollar store shadowbox, and a few cents' worth of chicken wire, you too can have your very own succulent frame. Love it! (Um, do wear gloves when working with that chicken wire, though, as Fern can attest!)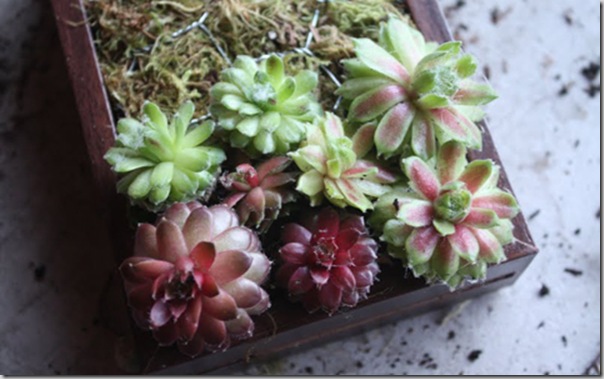 And if you haven't entered to win a copy of Fern's new book yet, head on over and do that now. It's got gorgeous photography, fun DIYs, and is a great book both for beginners and more advanced gardeners.
Then, Amy at Garden Rant asks, do you Houzz? Houzz is a place where many DIY-ers get photographic inspiration for their new projects. You can create "ideabooks" for your new landscape pathway, for coastal gardening or whatever your thing is.
While it's pretty home-centric (not so much in the landscaping realm), they're growing everyday and many designers are getting on board. Check out Elaine Johnson (she won a Houzz best-of award!), Andrew Keys, Switzer's Nursery and Micah Dennis – all doing interesting things on Houzz. If you're on there, follow me so I can follow you back! I'm going to be building my profile this week.
Lastly, after our worm-y giveaway, I got a few emails asking about the worm bin. Is it really the best one? Is it really worth the cash? Well yes, I'd say so. It's definitely the best-designed worm bin of the three brands I have seen, and I think it's pretty much perfect. I'm not sure what I'd change in the design – they've gotten it just right.
The DIY bins are OK if you're a starving college student and have the time to spend hours fussing with it (that's not me), but if you just want a simple, eco-friendly way of generating some worm castings for the garden and getting rid of kitchen scraps, then this is the way to go. Nature's Footprint has kindly offered up a 10% discount to North Coast Gardening readers, so if you're on the fence, maybe that will help. Enjoy!
Thanks for reading, and stay tuned as we have two more great giveaways coming this week, as well as some dish from the SF Garden Show. Cheers!