When I first bought my own home years ago, there was one fact that made me particularly happy: as a responsible grownup and a homeowner, I was now allowed to get any pets that I darn well wanted, so long as I could take good care of them. No landlords or reluctant parents to tell me I couldn't!
Chickens were an easy sell to my other half, since we love eggs, as were a couple of kittens. But after that, I started hitting a wall. "Guinea pigs!" I suggested. "Bunnies!" "Geckos!" Each of these brilliant suggestions was met with a dubious stare. Perhaps there were still some limitations on the pet front.
But when I read about vermicomposting, I realized that here was a pet that was useful, quiet, didn't need their litter box changed, and wouldn't get snippy with me if I went on vacation. There was still a doubtful eyebrow raise about the relative awesomeness of worms as pets, but there was hardly any reasonable objection to be made. I was to become a proud keeper of worms.
Figuring I'd better learn a little more about my new choice of pet, I picked up a copy of Amy Stewart's The Earth Moved: On the Remarkable Achievements of Earthworms. Even setting aside my new enthusiasm about worms, the book kept me rapt until the wee hours of the night, learning about the relatives of my new pets. Amy has a knack of finding the story in anything, and the curious tales of worms, and the scientists and business people who work with them, read like a thrilling bit of fiction. I mean, you can't make this stuff up!
And I discovered that worms made me very popular at cocktail parties (at least at the type of cocktail parties I go to). Nothing like  bit of worm trivia, delivered with a cheerful grin, to perk up a boring conversation. Fern Richardson apparently agrees; she started the Twitter hashtag #WormFact to share her favorite tidbits. The fact I can't get over? There is a type of worm, I believe in Oregon, with lily-scented slime. LILY-scented! I wish I could keep them as pets.
Anyway, we all know the benefits of worm castings: great for seed starting (helps prevent damping-off), helps retain moisture for hanging baskets or container plants, and generally full of good stuff for the soil. Being able to grab a handful of castings anytime is a great way of giving plants a boost.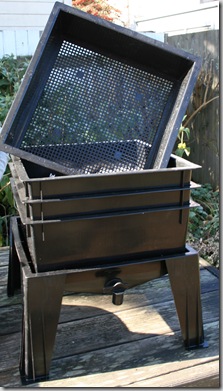 And this is why I've been using a proper worm bin, the Worm Factory 360, instead of some manner of DIY setup – the castings are super-easy to harvest. My first boss as a gardener had a DIY worm bin in a large tupperware, and on the first rainy day of the year, she had us spend a very long few hours harvesting the castings. It went like this: pick out worms, one by one by one, and after two hours of tedious worm-picking, my boss was able to use the harvested castings in her containers. I am tired just thinking about it.
But a proper worm bin has three or four levels, so as the lower levels fill up with worm castings, you just start adding your vegetable scraps to a higher level to lure the worms up out of the old castings so you can use them. If you're impatient, something like melon or pumpkin guts will draw them up very fast, and you'll feel like a rock star when you see how happy the worms are wallowing in their melon bits. It's not too hard to be a good worm parent, as long as you eat your vegetables and have some occasional peelings, guts or rinds to share.
The Worm Factory 360 is easily the nicest bin I have tried. It is small and square, so it fits under a sink or among a container garden with relative ease, and the flat, sturdy top means you can set a cute pot on top to disguise it. It comes in black, green, or terra cotta, and it kind of looks like a modern little table of some kind once you get it set up. It's certainly not an eyesore, which is more than I can say about the cats' litterbox!
Would you like to try your hand at vermicomposting? Amy Stewart and the Worm Factory have teamed up to offer an amazingly awesome giveaway: A copy of The Earth Moved to get you inspired, and a Worm Factory 360 to get you started! Just leave a comment to enter and I'll pick the lucky winner on Wednesday the 28th. US only. Good luck!
Congrats to Karen of Le Jardinet, who has won! And if you'd like a special discount on The Worm Factory, visit this link until April 30th 2012.