One of my most dreaded tasks is when clients have a hose that hasn't been rolled up properly, so it's bent and folded and won't go back into place. Being the responsible horticultural professional I am, if I touch something, I have to leave it perfect. However, rolling up a heavy, kinked hose is a recipe for profuse "dammits". And a kinked hose happens to the best of us! I have invested in Gilmour Flexogen hoses for years, thinking them the best anti-kink hose, and they are pretty good if you roll them up religiously after every use. But over the years I've forgotten once or twice, and I now have a persistent kink which vexes me every time I water. Ugh! So when Tuff-Guard offered to send me
one of their kink-free hoses
, I was
so
on it. Their website shows photos of these hoses all tortured into knots yet still unkinked. When I got it I saw why – this thing is downright bouncy! It's got a springy feel to it and an outer spiraled wrap which keeps it from forming a "memory". Of course, I took the "no-kink" claim as a challenge and immediately took it upon myself to try to
mess my new hose up
. I stood on it, jumped on it, tied it into knots, and tried every way I could think of to kink it, to no avail. When they say it is kink-free, they mean it.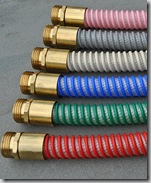 But the other thing I love about this hose is how lightweight it is! You don't realize how heavy a hose is until you're trying to carry a big coil of it to the far end of the garden, or you're pulling on it to wrap it up again. But this one is easily the lightest hose I have ever felt by a large margin. I bent down to pick it up the proper way so that I wouldn't hurt my back, and immediately felt silly as it weighed nothing. Yet the materials seem so well-engineered that I have faith it's going to last. It's made in the USA, after all. Of course if you buy the
Tuff-Guard hose
, you may wish to invest in a hose reel. It's so delightfully springy and lightweight that it zooms into a hose reel with little effort, and I put mine into a hose pot in about five seconds – it just
wanted
to cooperate with me. But the springy nature of it means that it sits much tidier in some kind of hose holder than on its own.