Yes, people, it's giveaway week here at North Coast Gardening. And I use the term "week" loosely as there will be more giveaways to come in the weeks after, including a rototiller, cold frame, and some other neat goodies. But first, some cool links from around the web. . .

Kicking things off, there's two giveaways elsewhere that you ought to know about: First, Stevie at Garden Therapy is kicking off her new book club, and she's looking for reviewers! The first book is Niki Jabbour's The Year-Round Vegetable Gardener, which I just scored a copy of and looks fantastic. Stevie's got four copies to give away to readers, so head on over and join the "club"!
The second giveaway is in celebration of the Chicken Encyclopedia that I posted about yesterday (enter to win a copy here!) Storey is giving away a whole passel of chicken-related goodies. I want to win!
Then, don't forget to enter my contest for one of three sets of EZ-Walls plant protectors! These things are like a mini-greenhouse, and the best part in my view is that not only do I save plants from frost, but I save them from my chickens as well! My ladies had zero interest in messing with my plant once it was hidden in an EZ-Wall.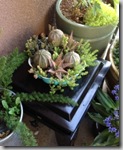 Next up: worms! You may not think of worms as a very interesting topic, but once you read Fern at Life on the Balcony's reviews of Amy Stewart's book The Earth Moved and the Worm Factory 360 worm composter, you may feel differently about it. Fern's even got her own twitter hashtag for those delightful bits of worm-related trivia she's digging up: #WormFact! My favorite worm fact? You have to wait for later in the week for that (yep, that's a hint). Go, check out Fern's blog!
Lastly, I'll be at the SF Garden Show on Wednesday, so if you're going, be sure to find me in the crowd and say hi! There are some great speakers throughout the week, so if you're in the area be sure to go and hit a few lectures. The all-show pass is only $25.
Don't forget to check back in throughout the week for some more awesome giveaways!