When I tell people I live in coastal California, they get this delightful image in their heads of sunshine, warmth, and many opportunities to suntan. Unfortunately for my vitamin D quota, I live at the other end of the state. It's foggy, rainy, and doesn't get all that warm, even in the middle of summer.
You can imagine that getting a jump start on the season is something I'm into. I mean, tomato and basil sandwiches, fresh from the garden, are the best! I've been looking into seed-starting lights, grafted vegetables, cold frames, and other gadgets to lengthen my growing season and maybe score some real-live, actual tomatoes up in this joint.
One of the simplest solutions I've found is this inexpensive portable mini greenhouse, called the EZ-wall. You just place it around a tender plant and fill with water for an immediate way of warming and protecting new starts. It even has a drawstring so you can pull the top shut for extra protection.
You may have seen a competing brand, the Wall-o-water. That works fine too, but what I like about the EZ-wall is that it's a lot simpler to fill. You just stick the hose into the top, turn the water on, and fill the whole thing in one go. The other brand needs to have each little section filled one by one, which isn't as convenient. I also like the drawstring at the top of the EZ-wall brand, which gives me a little more control as to how much protection it provides.
The best, unexpected benefit? I'll leave you to see for yourself: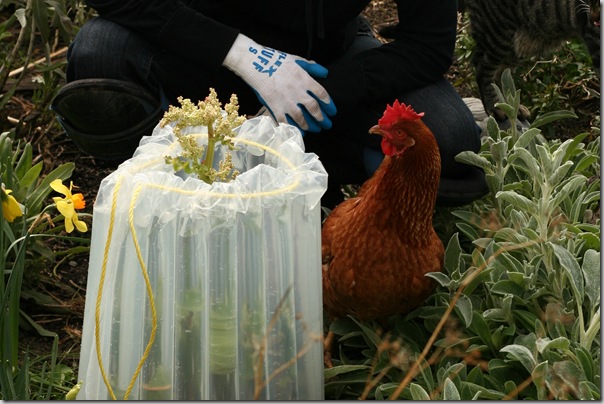 Yep, it's chicken-proof! I can't even count how many baby plants my lovely ladies have destroyed with their happy scratching at the soil. But the EZ-walls is made of thick enough plastic that I will be very surprised if they damage it with their occasional curious peck or scratch.
Want to try EZ-walls for yourself? They've kindly offered to send three readers their very own triple-packs of EZ-walls to get started with. Just leave a comment to win! Three winners chosen at random on Tuesday, March 27th. US only. Congrats to Alison, Erika and Melody, our winners!