While I'm no fan of the Hallmark holidays, which seem to have been manufactured into popularity by people wanting to sell us stuff, I am a fan of telling people I love them. And eating copious quantities of chocolate, of course.
Given that I also have a brand new pair of shockingly vivid fuchsia pants to wear, this Valentine's is looking somewhat more exciting than previous renditions.
Whether you're sharing in my joy or cursing yet another forced gift exchange, here's some Valentine's revelry to get you in the mood.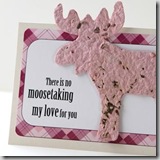 Stevie over at Garden Therapy starts out this week's awesomeness by sharing some great DIY plantable Valentine's Day cards. If her moose-related love puns don't get your beloved to crack a smile, then I've got no help for you.
I think my favorite thing about her tutorial is the way her seed slurry looks like a strawberry milkshake. Nom!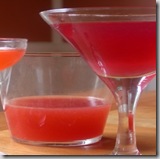 Speaking of nom, Amy Stewart's most recent Drunken Botanist column highlights a few excellent ideas for drinks. If you're feeling a little irritated by the forced jollity of it all, a bright red fruity cocktail would be just the thing to lighten your spirits.
I'm going for the strawberries-and-pomegranate frippery of the Isn't It Romantic? cocktail. Cheers!
Single this Valentine's? No worries, Amanda of Kiss My Aster has the perfect pick-me-up for all of us ladies:
More Ryan Gosling here, here and here. Thanks Amanda!
Next up, Mary over at Black Walnut Dispatch mocks the HGTV-inspired idea of outdoor bedrooms by sharing four other concepts in outdoor sleeping gear. Her verdict? Great big garden FAIL. Apparently, the great indoors has its benefits.
Lastly, if you've left your Valentine's planning to the last minute and need some fast ideas to get you out of the doghouse, here are a few picks:
My girl Nicky of Dirt and Martinis has terrarium fever, and gives some great how-to tips for making a cool one. You could stuff some moss in a brandy snifter with a card that says the real terrarium is on its way (Print out Nicky's post to give the gift that added air of thoughtfulness!).
These moonlight globe lights would definitely bring an air of romance to the garden, and the fact that you've gotten something so unexpectedly cool would definitely get you off the hook for having it arrive a bit late. Win!
Or, you can pull a Ryan Gosling and give your beloved an online gift certificate to one of these fine seed catalog companies. Julie Moir Messervy Design Studios had everyone on staff weigh in with their faves. I was glad to see Renee's Garden get a good shout out!
Happy Valentine's to you all! I hope there are many fruity drinks and chocolate truffles in your near future.