Monsanto Trial
The normally non-political Margaret Roach of Martha Stewart Living fame and A Way to Garden has spoken up about the Monsanto trial that starts tomorrow. Why is this important? Because Monsanto's been genetically engineering seeds for common crops like corn, wheat and alfalfa so that farmers can spray their rows with the herbicide Roundup without killing their crops.
One of the many problems with this (beyond the fact that we're all eating Roundup every day in our breakfast cereal) is that grassy crops like wheat cross-pollinate very easily. Not only have organic gardeners had their crops contaminated by the GMO strains, but Monsanto's been suing them for having the Monsanto-trademarked strains of those crops in their fields. Their sheer nerve boggles the mind.
Anyway, Margaret interviews the founder of Fedco Seeds about it, and says in her introduction:
"This is not an easy subject to explain simply, so besides his answers, I've gathered some video clips and links that may help you get better informed. At the very least: Skip to the bulleted "to-do" list near the end and DO THEM!"
A-men. If you're feeling angry and powerless, skip to the end of her post and get involved.
Happy Honeybees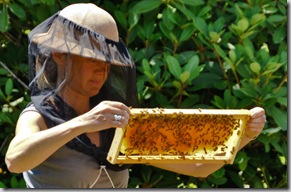 Local journalist Kym Kemp has an interview up with her neighbor, gentle spirit and friend-of-the-bees Dana Bloomer. The interview was a realistic and interesting look at the lives of normal people who keep backyard bees.
I don't know about you, but I'd love to keep bees someday. For one, I'm a huge fan of raw, unadulterated honey. Ever since I used bee pollen to help cure my seasonal allergies (I mean, what kind of landscaper breaks out into uncontrollable ah-CHOOS at the sight of a plant? That couldn't go on), I've been a fan of hippie honey. Cloudy, unheated, with little chunks of propolis, pollen and wax floating about in it. Divine! What I love best about the interview is that Dana makes the process sound so normal – like something anyone could do.
Anyway, head on over, check out the photos and read the interview.
On a side note, Dr. Mercola talks about why you should never buy supermarket honey. Hint: it's not honey!
NWF Triumph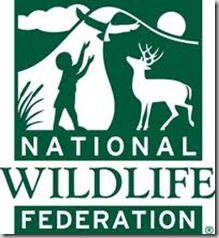 I have been so proud all year to serve as one of only 14 landscapers in the United States who is recommended by the National Wildlife Federation. I love the mission of their Certified Wildlife Habitat program, which is to help home gardeners get inspired to create a real habitat for wildlife in their own backyards.
So it was with great shock that I read last week of their decision to partner with Scott's, a company that I thoroughly disapprove of for their chemical-laden fertilizer and pest control products that cause more harm than good in the garden. Not to mention Scotts' recent partnership with Monsanto to sell GMO grass seed!
The backlash to this partnership was instantaneous, and in today's social media landscape, people were able to have their voice heard right away on the company's Facebook page and via Twitter.
I didn't think any of us were doing much good beyond drawing attention to a wrong committed by a company we have trusted, but now the NWF has backed off of their partnership with Scott's. Read Carole's post-mortem over at Ecosystem Gardening.
I'm relieved that this is over and that the NWF made the right decision in the end. I just really, really wish they'd made the right decision from the beginning. To know that while they were telling me that habitat gardens should be organic and not rely on chemical fertilizers, they were in talks with Scott's to sell dirty, chemical-laden birdseed under the guise of environmentalism.
I hope there will be some changes at the top of NWF so that I can regain the trust and respect I've had in their organization. I truly believe the majority of the individuals working at NWF are good people with a genuine love for their mission, and it is very sad that the bad decisions of the top management has sullied that reputation. I dearly hope they will stand up and be true visionary leaders in the days and months to come.
Squee! Contests!
On a lighter note, anyone want to win some awesome free loot? I probably shouldn't tell you this, because I've entered and I want to win, but Timber Press is giving away a copy of Free-Range Chicken Gardens by Jessi Bloom, along with a $50 gift card for chicken gear, a full set of chicken coop plans, and a pound of organic chicken forage blend seeds from Peaceful Valley Farm and Garden Supply.
If I don't win, I am definitely buying some of that forage seed blend. After reading Jessi's book (I just reviewed it for The American Gardener Magazine), I'm all inspired to create some spots in my garden just for the chickens to enjoy, with mirrors here and there for them to admire themselves in, dust bath areas, and, yes, some plants just for them. Maybe it will stop them eating all my blueberries. A girl can hope, right? (More about the book in this video.)
Oh, and a second contest – Fiskars is celebrating the 45th anniversary of their often-copied-but-never-matched orange-handled scissors. While I personally am rocking the special-edition purple Fiskars scissors that I found a couple years back (score!), I gotta give props to a classic. Enter here to win a prize package of their scissors – just take a photo of yourself with your orange Fiskars, post it to their Facebook page, and you'll be entered to win.
That's all for this week! Have you seen anything cool this week? Let me know by leaving a comment.