Succulents! Forget the "Year of the Protestor", 2011 was the Year of the Succulent. From green roofs to succulent spheres,
these low-maintenance, year-round plants have been everywhere. With Debra Lee Baldwin's classy instruction in her books, we've been using succulents in rose gardens, container plantings, and some creative people have even used them as Christmas ornaments.
While succulents had some stiff competition this year from trends like edible ornamentals, vertical gardening, and gardening for wildlife, the fact is that succulents were a big win this year because they're easy. You can't kill 'em, they make great gifts, they're not too expensive, and if you have friends who garden, you can get into the succulent trend without spending a dime since they root so easily.
Succulent inspiration. . .
It's with mixed emotions that I look back on what was hot in 2011, because I have a few pet trends that didn't really take off (I'm particularly keen to see landscape designers embrace the use of natives in creative, NEW types of design).
So what can we learn from this succulent success, if we want to be a trend-setter?
First, be gorgeous. That helps. Native gardeners, I'm talking to you. Let's be careful to take great photos of our native plants and try to show them in well-designed vignettes rather than looking scruffy in the off season. I'm all for honesty, but you don't see Angelina Jolie walking around with bedhead and no mascara on, do you? We need to rep-re-SENT!
Second, give people the easy button. Succulents are popular because you buy them, you plant them, you ignore them, they look great. Things like vertical gardening may offer more satisfaction in some ways than a simple succulent planting, but it's also not as straightforward. I think bloggers like me need to try to share easy ways of dabbling in the depthier trends if we want to see greater innovation in the world.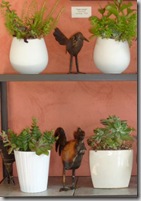 Third, offer it ready-made as a gift. A local friend Nadine has been selling some gorgeous succulent orbs and planters at our local shop The Garden Gate. Who wouldn't like one of those as a gift?
Yet trends like edible ornamentals didn't really take off in the same way – I've seen some cute lettuce bowls but nothing truly fresh. Same with planting for wildlife – I'd love to see a native flowering currant in a pretty pot with a little birdie ornament hanging on it to give people the right idea. Native plants as grab-n-go gifts. How cool would that be?
Anyway, congratulations on a well-deserved win, succulents. Your awesomeness couldn't be touched, at least in 2011.
Stay tuned for my winner-and-loser predictions for 2012 later this week!
Planter at top and first two in the inspiration box are designed by Nadine Freitag. Photo of succulents as Christmas ornaments from Flora Grubb.