Today, I'm totally excited to get to announce that I'm one of the eight new Proven Winners Garden Gurus! I'll get to have a sneak peek at some of the latest Proven Winners plants (and share photos of them in action), as well as write an article each month for their website. Edited to add: Wow! My article just went up, and it's the first one to go live on the new site! Check out my introductory post here.
When Proven Winners first contacted me about this opportunity, I was delighted. Obviously I love their selection of both garden favorites and the more unusual plants (Like this wildly cool begonia!) but what I love even more is that they try to give gardeners the tools they need to succeed with their plants.
Some gardening companies can be stingy with the photos or the growing information about their plants – they just don't make it a priority to help people succeed with growing them. But Proven Winners has tested their varieties so thoroughly that they stand behind their plants, giving advice for novice gardeners and experts alike, so that we can all have a great experience even on our first time growing a new plant.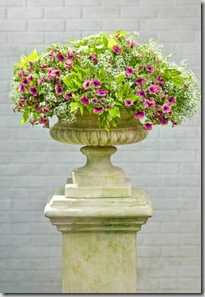 For instance, check this out: It's a huge variety of container recipes that are searchable via shade or sun requirements, color schemes, or the style of pot you have.
Even if you don't use the exact plants they suggest, you can get inspiration on what types of foliage or flower colors go with Pretty Much Picasso supertunias, for example, or apricot Diascia. (I can tell you when I first saw Pretty Much Picasso, I knew I wanted it, but it's so crazy I wasn't entirely sure what to do with it. This kind of stuff helps!)
Then, they publish these idea books which you can download for free, which are full of planting inspiration and guidance. And articles about topics ranging from why it's OK to fail in the garden to how to go all True Blood with gothy dark plants.
What other company takes the time to equip gardeners in this way?
So I'm thrilled to be able to contribute to the new Proven Winners blog in the coming months. And I'm in good company! Here are the other seven ladies who will be joining me as Proven Winners Garden Gurus:
Carolyn Binder of Cowlick Cottage Farm
Jenny Peterson of Jenny Peterson Garden Design
Amanda Thomsen of Kiss my Aster
Dee Nash of Red Dirt Ramblings
Laura Mathews of Punk Rock Gardens
Niki Jabbour of Year Round Veggie Gardener
Jean Ann Van Krevelen of Gardener to Farmer
I'll keep you updated about any new posts that go live over there. Thanks for celebrating this with me! I can't wait to test out some of their new-and-cool varieties in the coming year.