Well, the first rains have arrived here in Humboldt, which generally means – Christmas is coming! Yeah, I hear all the groans.
But seriously folks, if you aren't going to take the slacker route and get everybody gift cards, now's the time to start making some crafts for people, so you have time to screw up a few times before getting that gift-worthy incarnation worthy of your mother's boundless love for you.
Helping us out is Stevie over at Garden Therapy, with a review of Concrete Garden Projects from Timber Press. Unlike most reviewers, Stevie didn't figure a simple book report was good enough – she dove in and got her hands dirty making one of the projects in the book, and better yet, she shows you how to do it, too.
I love the simple elegance of the concrete projects she chose to profile, and after reading, I'm definitely keen to check out the book myself. Good reviews so far on Amazon.
Next up, Stevie is on it again, with some awesome free canning labels that she designed for us. If you canned up some ghetto-looking apple butter that tastes good but has scribbled labels with apple glop on them, Stevie is again coming to your rescue. These stylish labels can be slapped over the top of your initial, functional label to make a quick hostess gift or stocking stuffer for your friends. Thanks, Stevie!
Then, Ann, the Herb'n Cowgirl, shares some of her favorite holiday recipes. I could definitely see making her honey almonds or peppermint bark as a quick, simple gift.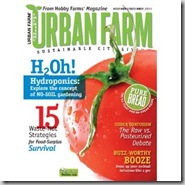 Lastly, Amy over at Garden Rant shares her great love for Urban Farm Magazine, which I agree is one of the best magazines out there. Unlike so many DIY mags, this one actually tells you how to do real stuff. Not just the same old "I might keep chickens one day" articles, but actual in-depth articles about moulting and other topics that you'll need to know.
The latest issue has a DIY cocktail section, with instructions and recipes for mango tequila, homemade bitters, strawberry sake, and infusions of just about everything – horseradish, basil, pineapple, ginger, pomegranates and more. Seriously, who wouldn't love to get THAT as a present? (Well, maybe your Uncle Bob who's in AA, but everyone else would be stoked!)
I'm guessing they'll have a lot more good stuff in the pipeline as the holidays come, so pick up your subscription if you don't want to miss out (guessing you'll catch the boozy issue if you act fast). It'd make an awesome gift for those DIY, urban-homesteading-types on your list.
Have you read anything cool this week or done any DIY projects lately? Let me know in the comments below.