With Halloween around the corner, what more appropriate topic to tackle than darkness? Specifically, dark and black foliage.
Black is dramatic. Unexpected. It's all about contrast – between dark and light, living and dead. Like a glittered Day of the Dead skeleton, there's a playfulness there, along with a somber dignity. Darkness in the garden must be used with intention, because whether you're using it well or poorly, it will be noticed.
Here are some tips to rocking the darker tones:
Darkness adds depth to a small garden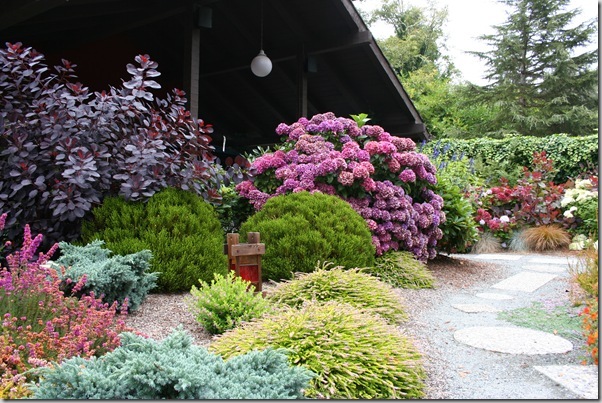 (Design by Ryan Scott (top), Patricia Wells (bottom left), and Ryan Scott (bottom right).)
Because dark colors often seem to recede into the backdrop, using them can be an easy way of fooling the eye into thinking a space is bigger than it really is.
In the top photo, the dark color and open form of the smoke bush (Cotinus coggygria) lends a feeling of airiness to the planting, and makes the garden feel larger than it really is. Had the designer chosen a green shrub instead, I think the garden could have felt walled-off.
You can see the same concept in play in the bottom right photo, in which the Japanese maple adds a feeling of depth to the garden bed. The ivy-covered wall behind it could feel fortress-like, if not for the skillful use of dark foliage to bring a textural and color contrast to the bed.
In the bottom left photo, this garden path feels mysterious and compelling because of the tension created by the dark-foliaged fuchsia tree obscuring the destination.
Using dark plants to play with shadows is an easy way to bring depth and spaciousness to the garden.
Let darkness punctuate rather than dominate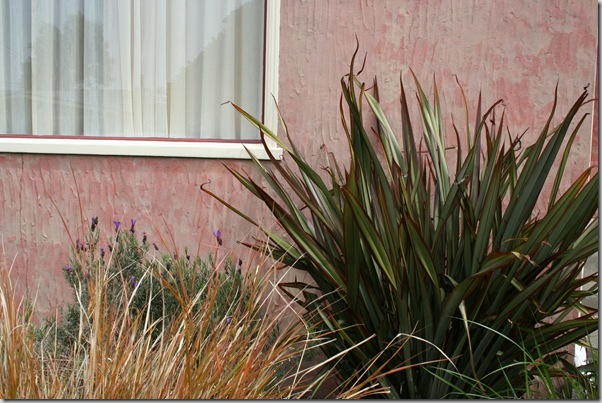 In this garden, the striking chocolate-black edges on this flax bring a needed balance to the warm tones of the home and the garden plants. Without the bold exclamation point of the flax, the pink color of the home could turn cloying. But the careful use of dark color as a contrast makes all the colors feel like part of an intentional design statement, and it works beautifully.
Use referee plants between potentially clashing colors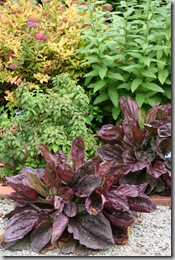 I wouldn't be that keen on the gold of this spirea with the bronzed purple of this plantain, if not for the fact that they have a layer of green running interference between them.
"Referee" plants calm everyone down and smooth any potential clashes with a color and texture that's hard to argue with.
While you're getting comfortable introducing some dark colors into your garden, try putting a friendly layer of green in between any combinations you're unsure of. As you figure out what works, you can become bolder in your pairings. (At left, design by Patricia Wells.)
Be playful!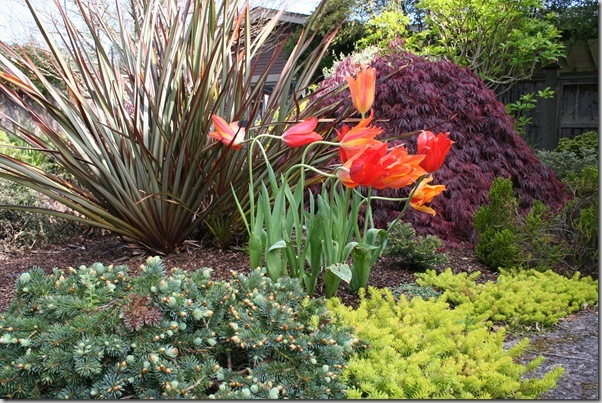 Dark plants needn't feel somber. I love how this garden bed changes from refined to wildly exuberant with the addition of these tulips in spring. (Design by Tina Rousselot.)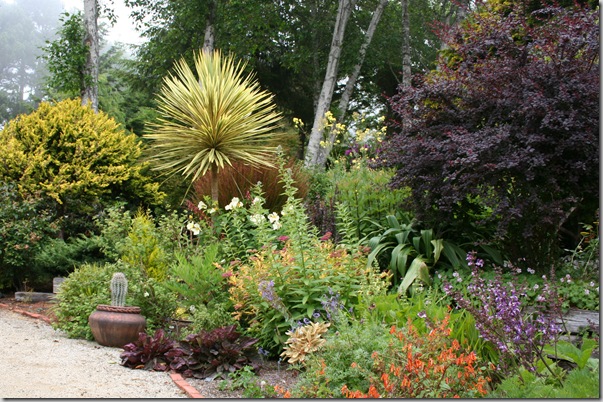 Above, this fearlessly colorful garden uses dark plants to accent and anchor a variety of flower colors and textures. The darkness of the foliage gives a feeling of structure and continuity that makes this enthusiastic perennial bed feel well-planned. (Design by Patricia Wells.)