Guest post from Stephanie Cohen, plant maven and co-author of the deliciously readable The Nonstop Garden:
Every year new perennials tempt us to buy them. Some become instant successes, others never achieve notoriety, and some really bad plants hang around forever. It gets more and more difficult to pick the winners and losers. I am either brave or foolhardy for attempting to do this.
Let's have a drum roll. We are putting down the green carpet. Each plant vying for contention will strut its stuff before entering the garden arena. They have been primped, the PR is out, but can they perform as well in the garden?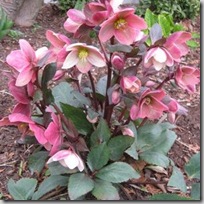 First coming down is Helleborus 'Pink Frost'. It reminds us of another top seller 'Ivory Prince' because its buds face outward. The official name is Helleborus x ballardiae Gold Collection 'Pink Frost'.
She is showing off her buds that appear burgundy and white and open a soft light pink, and maturing to a burgundy red. Her skirt of foliage is a delicious shade of silver green. The delicious attribute of this plant, depending where you live, is the long bloom time from Jan. to April.
This dazzling hellebore is very comfortable performing in part to dense shade. Gardeners will be using in shady nooks or in containers. The deer seldom eat, but occasionally browse.
The competition is very heavy this year with so many entries. The other contender is 'Ruby Racer' and it is exactly as it says, it's a dynamite 'Ruby Red'. The flowers have been fed an excellent regime of vitamins because each bloom is 3″ wide.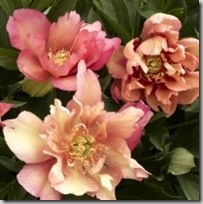 Peonies are always showy. However, the new Itoh hybrids are demanding center stage. They produce buds over a longer period of time and extend the blooming season. Their increased vigor helps the foliage stay greener longer. 'Bartzella' was a big yellow double introduced a few years ago. Big and bodacious would be my description.
The newer ones like 'Kopper Kettle' are divine! How often do you see semi-double flowers in shades of red, yellow, and orange that look copper from a distance. The cross between herbaceous and tree peonies  makes them easy to grow as new shoots emerge after the dormancy of winter. Many have extremely strong stems so you avoid staking. You have to admit this plant has real sex appeal.
A rather diminutive beauty has just come into sight. The small shade emperor takes center stage. You can hear the buzz. Yes, it's the trend setter and jet setter-Hosta 'Cherry Tomato'.
New this year, but it is working its way to being a top selling hosta. It flaunts long lance shaped leaves that are creamy yellow to white with wide dark green margins. Attractive red petioles and purple flowers make you want to take a second look. Besides there is a cuteness factor. It is a miniature sport of 'Cherry Berry', who looks upset by our choice.
The sun goddess who will not let the Hosta steal its thunder is the Hemerocallis.We never exclude one of the most popular perennials when it demands center stage.
The 'Earlybird Cardinal' is the progeny of Dr. Darrel Apps. It has large watermelon flowers that scream buy me! It flowers one month earlier than other daylilies. It can stop traffic! If this is one you already have, don't despair, there is 'Kansas Kitten'. It has a rich lavender purple flowers with a black eye zone.
This is no kitten, but a tiger in disguise. Check out the black eye. This ferocious grower will take on all comers!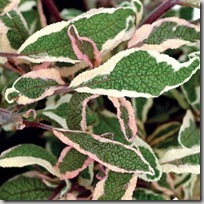 The plant quivering in the corner is Salvia officinalis 'Silver Sabre'. It is extremely nervous because it is a perennial herb. It moves onto the green carpet and wows the crowd. It is a brilliantly variegated edible sage. It stands up straight to show its great habit. The pink swirls in spring against the white variegation are fantastic. It would love to be in your perennial border basking in the sun. It hopes it's not relegated to the herb or vegetable border. It wants to be a trend setter!
Geranium 'Blushing Turtle' walks very slowly onto the carpet. It is definitely not a turtle and turtles don't blush. However, the soft pink one inch flowers are made bolder because the veins are a vivid pink. It dazzles us in spring and makes a comeback as the air cools in September. The lovely look-alike maple leaves enhance the plant and its toothy grin takes on rich fall hues come September. It makes delightful mounds that might look turtlesque, but definitely more exciting. It's a good choice for the mixed border.
Fit to be a nectar for the Gods – Agastasche 'Pink Nectar' is a flower that attracts bees, butterflies, and hummingbirds. They know good nectar when they see it. This is a blooming machine and from summer to fall keeps cranking flowers out. The heavy dense blooms are showy but the plant itself is husky. It can  be the focal point of your mixed border. For those of you needing a thriller for your containers you may have found it. It is considered a zone 7, but if you are Cleopatra, the Queen of Zone Denial, try it any ways.
Give me a red hot mamma any day to offer the needed razzle dazzle to the summer garden. It's Kniphofia 'Echo Mango' and its bright peachy orange spike blends to a lighter color at the bottom. This plant laughs at heat and drought. The sturdy stems hold this tall beauty high above the rest. A great addition to the back of the border. What sets this show off apart is its capability to rebloom. So it can dance in your garden from May to August.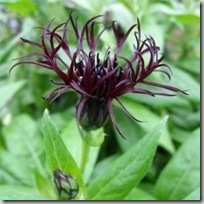 Black is always a hottie. This plant always wears the equivalent of the little black dress. Centaurea 'Black Sprite' may scare or delight you. It likes to perform in full sun where its black spidery blooms and green foliage with a silver cast will simply amaze you.
It could become the Lady Gaga of the perennial world. It tolerates heat quite well. This mid border late spring plant will definitely draw comments from the gardening crowd.
Religious people have been looking for the Holy Grail for eons. I have found mine called Silphium perfoliatum 'Golden Holy Grail'. These are very big, flower from mid summer into fall and produce copious amounts of flowers. The gold finches love the seeds. These are great for naturalizing or attracting birds and butterflies to the garden.
Sometimes people ask me if I am growing corn. Those days are gone now that this plant has yellow foliage.This can be a focal point because you might need sunglasses to miss them. A great plant along a fenceline so you can never see your neighbors again. This plant overshadows all the short plants that have preceded it.
The next plant stumbles a bit as it approaches the runway. What else would you expect from The Party Hardy Series of Sedum? Sedum 'Birthday Party' is compact and it manages to keep its stems and large head upright. In late summer its huge deep rose pink flowerheads are showy.
However the purple brown tinted leaves provide interest prior to bloom time. Keep this away from the Agastache or it might turn into more partying than you are prepared for.
Chrysanthemums have been a mainstay crop for fall. Boring at best! Now comes a break in the daisy chain. New Global Warming Mums are unique in that they flower when most of the fall mums have bid us aloha. They are the energizer bunnies of the plant world as they take some frost and keep on blooming. They provide food to the beneficial insects that are still around.  They produce copious amounts of flowers so you can cut them.
Chrysanthemum 'Glowing Embers' sports a red flower with a yellow edge. It's not shy about showing the many flowers it produces per stem. It sings to the crowd, "I'm gonna live forever" because it is a truly hardy mum, bred in Vermont, that is going to overwinter and not die!
Panicum virgatum 'Emerald Chief' jumps onto the runway, stands tall, and produces plumes you are going to love. This Switch Grass is big yet graceful. The panicles open red pink in late summer and its foliage turns from green to a lovely gold. This chief stands up to the competition by standing up tall through the winter months. Use as a specimen plant, naturalizing, or in a border. The plumes look great in arrangements.
As the Chief vacates the runway, the crowd begins to buzz. Who's going to win? You'll vote when you purchase a plant. Who knows? Maybe they can all be winners!
About the author:
Stephanie Cohen is known as The Perennial Diva, and after reading, you can see why. If you love her sense of humor and enthusiasm for plants as much as I do, definitely check out The Nonstop Garden, published by Timber Press. It's beautifully illustrated and photographed, and my copy is well-worn and thoroughly underlined, not only from the great information she shares, but from all the one-liners that I didn't want to forget! Read my review here.
Photo credit: Flickr