Just, um, not lately. I've been on a bit of a native plant kick in recent days, given that so many of my loveliest natives have been putting on a crazy spring show lately. Anyway, if you're not sick of hearing me bang on about regional character in landscape design, and supporting wildlife, and how critical native plants are to both aims, them pop on over and read two articles I've written for other sites lately.
Over at the newly launched Native Plants and Wildlife Gardens blog, of which I'm a member, I posted The Planting Pyramid: Adding Wildlife Value to Your Garden. It's all about how to find a good balance in your garden between plants that nurture wildlife and contribute to the environment, and those that nurture humans (food, sentimental plants, and just plain eye candy).
Then, over at the Christian Science Monitor blog Diggin' It, I posted Garden Design Using Native Plants. After reading Douglas Tallamy's section on native plants in The New American Landscape
, I was inspired to talk about the most compelling reasons why designers and gardeners should turn to native plants more often in their planting schemes.
(If you haven't seen The New American Landscape yet – go, get a copy right now – it's some of the most innovative and interesting thinking on sustainability in landscaping I've read in years.)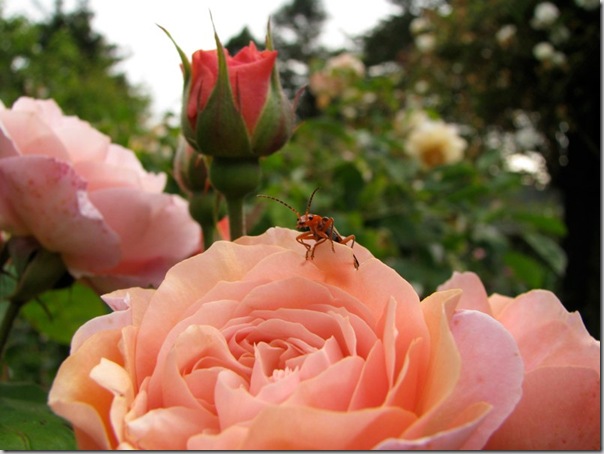 In other news, Humboldt County locals should reserve this Sunday afternoon (May 22 from 1-4pm) for a stroll through local legend Cindy Graebner's old rose garden. I'm not a fan of spraying, and neither is Cindy – she runs a spray-free rose garden and has almost zero disease issues with her sturdy, old-fashioned, romantic roses. (Is her happy bug photo above not the most adorable thing you have seen in days?)
If you're a fan of roses and looking for some low-care beauties that don't need any spraying, then her Open Gardens are a good chance to see which roses are your favorites.
She's at 282 Fickle Hill Road in Arcata, and she reminds those of us who can walk well to park on Bayview or Hill Streets, and leave the onsite parking for those who can't walk the 50 yards up the hill easily. It's this Sunday the 22nd, 1-4. If you go, be sure to tell me which roses were your favorites! (You can follow Fickle Hill Old Rose Nursery on Facebook here.)