Yes, people, it's that time.  I have a stash of incredibly awesome items that people have sent me to test out, and these kind people? They want to share the love with you, too!
This week I'll be holding giveaways for bare root blueberries, a SonnyLight LED Kitchen Garden grow light (swoon!), Worm Power worm castings, bare root artichokes, and some sweet gear from Angela's Garden. There may even be more! I need to rootle around.
Be sure to check in every day this week for a chance to win something new.
Now, on to our giveaway-related miscellaneous Monday items:
Jan Huston Doble, of Thanks for Today, is holding a giveaway to celebrate Earth Day, in which you can win 1 of 22 gardening items just by commenting. I probably shouldn't be telling you about this, because I have my eye on those West County Gardener gloves, among other things. So, uh, if you win those, you need to tell me how you like them so I know if they're cool!
Then, Peaceful Valley is holding a $200 gift card giveaway, good to use on their huge selection of bare root plants, organic products, and seeds. All you need to do is tell them your favorite part of gardening. I doubt any of you will find that too taxing!
Jenny Peterson is one of the new bloggers for Fifthroom Living, a lifestyle blog, and she alerted me to this contest to win $1000 from Fifthroom Markets by creating your own outdoor room garden plan. This one definitely requires some effort, so head over there quickly to see how to win.
Robin Horton over at Urban Gardens is giving away a Lechuza self-watering container to the winner of the Think Outside the Planter Box container gardening photo contest. Did you grow some beautiful containers last year? Send your photos in for some glory and a chance to win a cool prize!
Last but not least, Renee's Garden has a kitty photo contest going on, which actually, none of you need bother enter, because I am going to win! Really people, have you seen how cute my kitties are? But hey, if you want to try to beat out Tamir and Mackerel, it's your funeral. Just get some of Renee's Garden kitty grass seeds, grow them, and snap a picture of your kitty enjoying the snack for a chance to win a $50 gift card to Renee's. You've got till May 31st.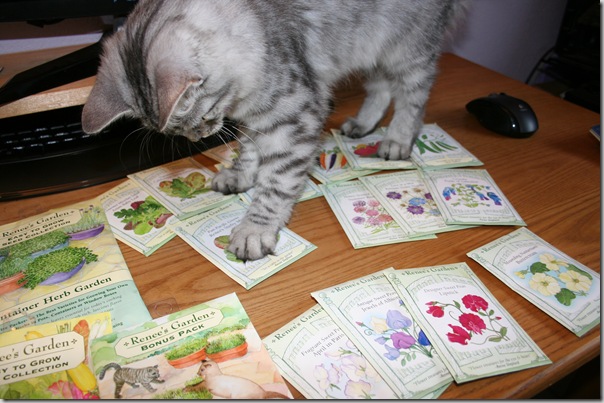 That's it for now!
Don't forget to check back in every day this week for some new giveaways here on North Coast Gardening. You can also sign up here for email notifications of every new post.