Loads of exciting book-related things happening lately, from new entries to the Five Books meme, to book launch parties for The Edible Front Yard and Garden Up!, plus our friends over at Garden Rant becoming regulars at Kirkus Reviews!
Starting us off, I want to share a garden book review blog called Gardening by the Book. Kylee Baumle, author of the Our Little Acre blog and book reviewer for Horticulture Magazine, reviews all the latest horticultural books. I love that Kylee points out some of the unique traits in each book so I can figure out whether the book might be right for me. And I'm glad to know I needn't waste my money on learning to survive a garden gnome attack!
Next up, congrats to the opinionated ladies over at Garden Rant for landing a book review gig with Kirkus Reviews! Their first review is from Elizabeth Licata about Bizarre Botanicals, and it's just as fun as you'd expect from the woman who sets her kitchen on fire while making mixed drinks.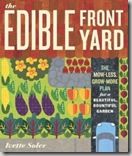 In case you missed the Garden Designers Roundtable posts about Ivette Soler's new book The Edible Front Yard, I want to encourage you to go check them out! I adored Ivette's new book. My first day with it I read for two hours, took a nap, and awoke fired up and full of ideas to bring my edible plants out of the raised beds and into the garden properly. She's got all kinds of tips and inspiration for what to plant, and what NOT to plant for an edible experience that's as pretty as it is tasty.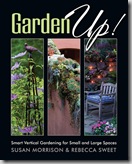 Rebecca Sweet and Susan Morrison are having an online book launch party today for Garden Up! Smart Vertical Gardening for Small and Large Spaces. This is so on-trend right now it hurts. I can't even tell you how many times I deal with this design issue, of needing height without width. Rebecca and Susan cover all the bases, from urban and small space gardening, patio and balcony vertical gardening tips, edible vertical gardens, and a bunch of DIY living wall projects that I just adore! Go on over to their blogs today (Susan here, Rebecca here) to read more about their blog launch party.
Fern Richardson over at Life on the Balcony has one of my favorite book reviews in recent times, for Debra Lee Baldwin's book Succulent Container Gardens. She profiles the best parts of the book, and shows off a few of the stunning photos that didn't make it into Debra's book. Fern also recently reviewed Sugar Snaps and Strawberries by Andrea Bellamy. I loved how she highlighted some of the tips in the book for container gardeners to take note of.
Lastly, if you haven't checked out the Five Books page in a while, go on over and have a look. A number of gardeners have shared their five favorite gardening books, and a great many of the selections were totally new to me.
Have you read any cool books lately? Share them in the comments!
***And just a reminder, the contest to win one of four generous sets of Tropicanna cannas ends Tuesday. Enter now to win!***