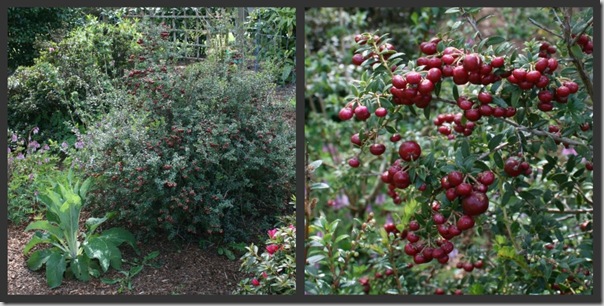 Like the barely-fragrant Stinking Hellebore, Gaultheria (formerly Pernettya) mucronata has been given a somewhat undeserved and unfortunate common name, probably by some delicate-skinned maiden who'd never heard of gardening gloves. Prickly Heath is only a bit poky at the leaf tips, but anyone wearing decent gloves won't really notice. Of course, it's possible my tolerance for prickles has been warped by years of getting rose thorns stuck in my neck while pruning, so take that for what it's worth.
Anyway, it's a lovely plant, with berries that come in a range of colors from white, pink, magenta, or red. The berries look fantastic against the tiny dark green leaves and bright white bell-shaped flowers, and the ones I have planted here on the coast have bloomed and berried nearly year-round, with a particularly fresh set of berries in winter.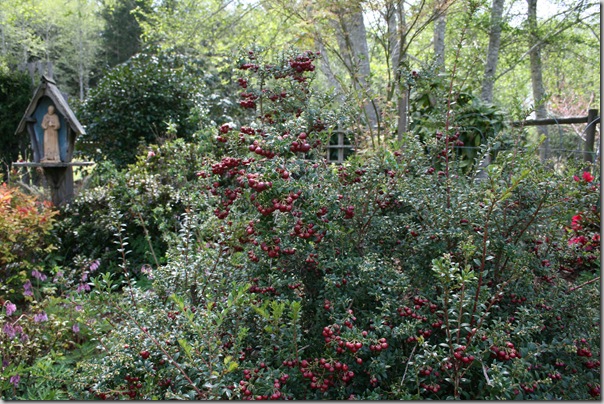 The Sunset Western Garden Book says that you can increase your fruit production by having multiple varieties, but I've grown a number of them without a pollinator nearby and gotten loads of berries (see the photos).
Our local birds seem disinterested in the berries, but the bees and pollinators certainly enjoy the little bell-shaped flowers, which remind me of Huckleberry or Salal blooms. The UBC Botanical Garden reports that the berries may be edible (people in Chile, where the plant is from, are said to have eaten it as a staple), but says their flavor isn't anything to write home about, so why bother? "Mealy and watery" doesn't sound particularly appetizing to me.
Prickly Heaths get about 3 feet tall and 4 feet wide, and spread politely by suckering. This is only a problem if you are using landscape fabric, in which case I'd cut out a 4 to 5 foot hole for them. I think of their suckering as a good thing, since it allows you to easily split off a few pups each year to use elsewhere in the garden.
They're hardy in USDA Zones 7-9 and are deer-resistant. They prefer part shade and cool, acid soil with a lot of mulch, so make great companions to Rhododendrons and Azaleas.
Have you grown Gaultheria mucronata? Let me know your experiences in the comments below.