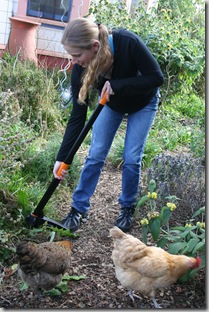 When I heard about this tool, I knew I had to have one. As an organic gardener, I find it extremely hard to keep dandelions out of the lawn. The herbicides that can be used in lawns are so nasty that I can't bring myself to use them. But the constant up and down, bending and kneeling that hand-weeding requires makes my 32-year-old knees want to cry. Enter the
Fiskars UpRoot Weeder
. A tool that gets dandelions and other tap-rooted weeds out easily, with no kneeling required? I am SO THERE. After Amy and I tested the UpRoot in her garden, I wanted to test the UpRoot more extensively, in an actual lawn. Lawns can be so compacted, and I wasn't sure that the UpRoot would be able to handle the hard soil and roots involved. So we went over to the vacant lot near Amy's place to give the UpRoot a real challenge: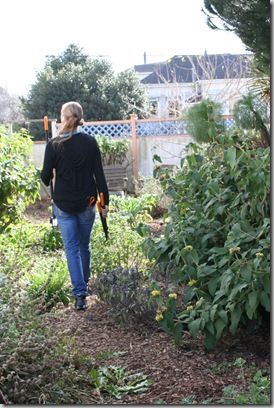 As you can see in the video, it worked great! The UpRoot got lengths of taproot that I can only dream of when weeding by hand. I am so impressed with this thing, and it's addictive to use. I've brought it along in my truck everywhere I go for the last few weeks so I can show it off and catch up on dandelion removal at all of my clients' gardens.
If you'd like to try a Fiskars UpRoot Weeder, Fiskars has two of them up for grabs! Comment here and at Garden Rant to win.
Susan in the Pink Hat has won! Congrats, Susan. Enjoy your new UpRoot Weeder!
And if you'd like to connect with the kind folks at
Fiskars
, you can check out their
Facebook Page
and
Twitter Stream
.