Even in winter, at a certain hour of the evening I feel drawn to the garden to check on things and putter about, snipping a few stems of chard and some herbs for dinner, watering this, weeding that. There's very little that could improve a peaceful half hour of puttering in the garden.
You know what could make it nicer, though? A cocktail in the garden, with fresh herbs scenting it. If you agree, the Fiskars Cuts + More is the tool for you.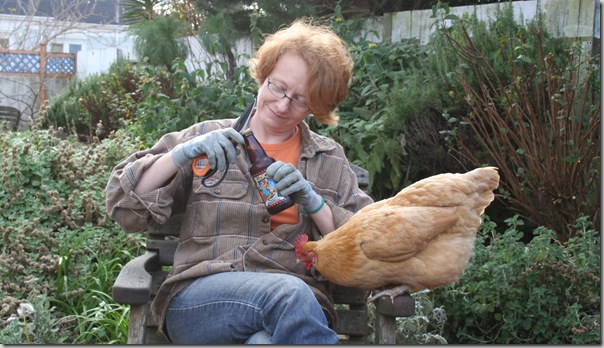 Fiskars (their Facebook page is here) was kind enough to send Amy Stewart and I a pair of them to try out, so we got together to test them and see what the Cuts + More scissors are all about:
You can see they're pretty multi-purpose, with a wire-cutter, rope-cutter, and bottle opener. The scissors work surprisingly well for nipping deadheads and cutting herbs or flowers. And they come apart to go in the dishwasher! No worrying about rust or sap gumming up your scissors.
I was so stoked on mine that a few days later, I decided to have a little cocktail party in my garden:
My drink:
Reed's Extra-Spicy Ginger Brew (a spicy ginger ale)
Angostura bitters
Brandy
Squeeze of fresh lemon
Rosemary to garnish
Would you like to join me in my cocktail hour? Fiskars has a Cuts + More to give away to two lucky readers – one here at North Coast Gardening and one over at Garden Rant.
To enter here, just leave a comment with the name of your favorite cocktail – extra bonus points given if you share how to make it! I'll choose a commenter Wednesday 2/9 to win.
Want another crack at one? Go on over to Garden Rant and see what manner of contest Amy's cooked up. Good luck!
Edit February 9 – Fern from http://owlhollownews.blogspot.com/ is the winner of the Cuts+More Scissors! Congrats, Fern!