Ivette Soler's new book, The Edible Front Yard
, tackles the question of how to incorporate edibles and veggies into your landscape without having the whole thing look messy, or rigidly planned like a farm.
How do you do that? She explains:
The successful edible front garden all comes down to the right plant in the right place. We have to be brutally selective, following the same kind of rules used by ornamental gardeners, when choosing which edibles to plant out front. Yes, these extra generous plants do us the honor of feeding us, but when they are placed out front and center they have another set of standards they need to meet.
Ivette has four criteria that edible plants must meet to make it into her landscape:
Ivette Soler's Rules For Front Yard Edibles

Photo from The Edible Front Yard

1. The entire plant must have a pleasing form – it cannot stand on the merits of its flowers (or vegetable or fruit) alone.

2. It has to give me at least two reasons to plant it (such as the color and form, or texture and seedpods).

3. Its leaves must hold up for the entire growing season. Some edibles have leaves that are susceptible to mildews, or are such heavy feeders that the foliage is just worn out by the end of the season. In the backyard, you can deal with it. In the front yard, plant something else.

4. If you must plant less ornamental edibles in the front yard because you have no other suitable space, pay extra attention to your hardscape. It's a lot easier to overlook wilted cucumber leaves if they are supported by a beautiful trellis.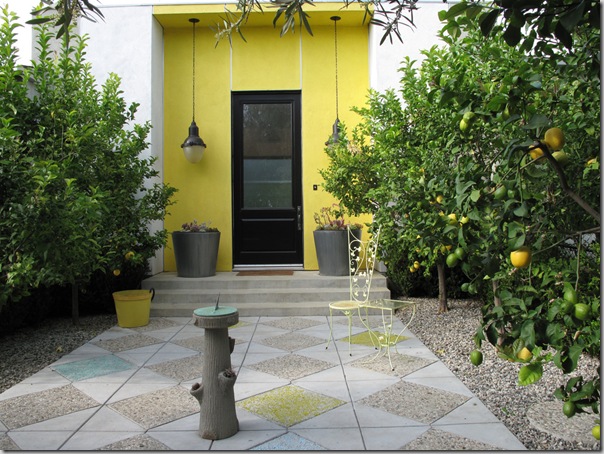 If you have an existing landscape, one of the easiest ways of introducing edibles into the garden is by looking for themes in the plants you already have, and choosing edible plants for your garden using the same criteria you would use with ornamentals – see Ivette's advice above.
Do you have a lot of plants with purple foliage? If so, try Redbor kale, red Swiss chard, purple cabbage, purple basil, or Sunshine Blue blueberry which has a hint of purpled bronze to the leaves. By echoing a color found elsewhere in the garden, you can bring a sense of continuity to your garden and make the edibles seem an integral part of your landscape.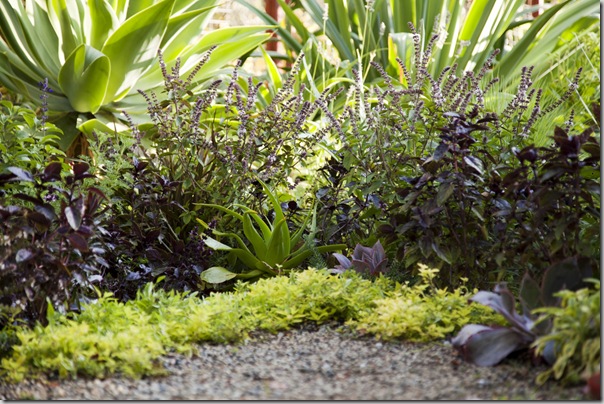 Here are some examples of using color echoes with edibles:
Golden oregano:

Golden oregano, Oreganum vulgare 'Aurea', is a natural partner with catmint, Nepeta faassennii, because catmint helps attract pollinators to your veggies (which means more yield!), as well as beneficial insects that prey on aphids. Even though the oregano is golden, it tastes every bit as good as the usual kind, and the catmint can be used in tea to help you sleep.
Meadow sage, Salvia x sylvestris 'May Night', is another that attracts beneficials and pollinators to the garden, and it has a great color echo with the catmint. Lastly, Japanese forest grass or Hakonechloa macra 'Aureola' is an easy-to-grow grass with a soft texture and golden color similar to that of the oregano.
Artichoke:

Artichoke, Cynara scolymus, has an architectural habit and silvery-blue foliage color that looks great with a variety of plants.  To help it fit into your landscape, try planting it among white Australian fuchsia, Correa 'Ivory Bells'. The light silvery sheen to its leaves echoes the artichoke's foliage, and the flaring bellflowers have a shape like an upside-down artichoke plant.
Blue Spurge, Euphorbia characias 'Glacier Blue' has an architectural habit of its own, with great alien-like blooms in cream and blue. The foliage, seen above, is edged in cream and shares a blue-silver tone with the artichoke.
Kiwi:

Kiwi, Actinidia spp, vines are crazy, rampant things that will eat your home, your shed, and your fenceline if you're not careful. But if you have room for two of these giants, a male and a female, you can have this gorgeous, tropical-looking vine AND more fruit than you and all your acquaintances can eat.
It's seen here with bronze sedge, Carex testacea, and a cool container "planting" of stones. Both echo the color of a kiwi's fuzz.
Huckleberry:

Huckleberry, Vaccinium ovatum, is a native to the Pacific Northwest which produces shiny black berries. The berries are tart but have a fun flavor for jams or pies if you add a truckload of sugar.
Here it's paired with black snakeroot, Actaea simplex 'Brunette', a hardy perennial that shines in the part shade locations huckleberry prefers. Cape rush, Chondropetalum tectorum, echoes the dark huckleberries with the deep brown papery bracts along each stem.
Ready to plant some edibles among your ornamentals?
Pick up a copy of Ivette's new book, The Edible Front Yard, for her inspiring take on how you can grow your own food without sacrificing beauty.
For more on this topic, check out the other posts in this month's Garden Designers Roundtable:
Ivette Soler : The Germinatrix : Los Angeles, CA
Pam Penick : Digging : Austin, TX
Douglas Owens-Pike : Energyscapes : Minneapolis, MN
Rebecca Sweet : Gossip In the Garden : Los Altos, CA
Scott Hokunson : Blue Heron Landscapes : Granby, CT »