So many of my fellow landscapers came to it after an unsatisfying career in another field. While turning your passion into your career has a lot of pitfalls (what do you do for fun when you've been working 60-hour weeks at your hobby?), landscaping is a fantastic career just because there are so many directions you can take with it – design, construction, pruning or other types of garden maintenance, coaching and consulting, or opening a nursery.
When I first became a landscaper, we didn't have the resources that are available now. Anyone coming into the field had to go to school and then learn through experience. If you were lucky you found a mentor or two willing to share how they did business or dealt with tough situations.
Nowadays, there are websites to help, and a number of brutally honest yet funny and encouraging books that walk you through starting your own business in this field. My top five?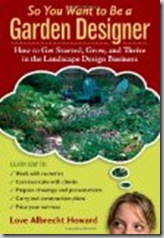 Love Albrecht Howard walks us through her years of experience as a landscape designer, gives suggestions on how to handle tough situations and discusses some of the basic knowledge and skills you'll need to get started in your own career.
When you know what knowledge you're lacking, you can find resources to fill in those gaps. The most valuable thing about this book is that Love shows you what things you don't yet know you need to learn.  It's like having a long-established mentor telling you all her secrets and helping you finesse your way through the inevitable rough patches you hit when you have new experiences.
You can read my full review on Amazon
, but suffice it to say, this is a must-read for anyone hoping to become a landscape designer or contractor. Just keep in mind that laws vary wildly by state, so take this book as it's meant – as guidance and inspiration, not as a business blueprint (us Californians have much more stringent laws for subcontracting the installation of the design, for example).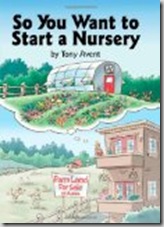 Tony Avent owns Plant Delights Nursery, known for its sometimes offensive but always memorable plant catalogs, and the wild selection of unusual plants. Tony's brash, honest, and a straight shooter. If you want to be coddled and told how easy it all will be, look elsewhere as that's not Tony's style.
But I laughed out loud nearly every page from his bitingly sarcastic wit and found myself nodding my head as we walked me through the many pitfalls in operating your own nursery, and his reasoning in choosing certain ways to operate over others. The general feeling I get from reading is that if you can make it through this book with your desire to own a nursery intact, then you might just have what it takes to actually operate one.
Even if you're just curious about what it's like to own a nursery, like I was, it's an engaging read.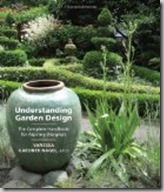 Vanessa Gardner Nagel writes for the APLD blog and is a real champion of increased professionalism in the field of landscape design. I haven't got my copy yet, but if Nagel's other writing is any indicator, I anticipate this book filling a real need for new designers looking to do a truly top-notch job.
From the Timber Press website:
Among the many topics covered are how to document a site, how to determine what a client needs and wants from the garden, how to take architectural features into consideration, how to think about circulation and lay out paths, how to use basic design principles, how to work with plants, and how to create a final design.

Practical aspects are clearly laid out, including working with contractors and staying on top of the various phases of construction.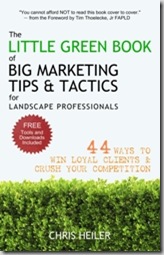 Chris Heiler operates Landscape Leadership, a community I've been a member of for some time. His book discusses 44 ways that you can amp up your professionalism in order to win new clients.
The books above are all about how to operate your business and perform your service, but you can't actually put all that brilliant knowledge to use until you figure out how to get some clients in the door. That's what this book is great for.
Chris covers how to showcase your best work, communicate who you are and what you do to potential clients, and shares how to put clients first so they can see you're a genuine human being who they can feel rapport with, and trust to do a great job on their project.
Best part? Right now, The Little Green Book is actually free. No excuses, head on over there and download your copy.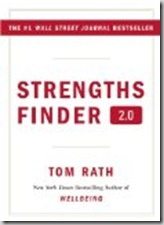 Tom Rath, with the help of the Gallup organization, has put together the most accurate and useful set of personality tests I've ever found. The book contains a unique code so you can take the test online (don't buy the book used!), and then you can read about your personality traits and how best to harness them for career success, as well as figure out how to work effectively with people who have other strengths and traits.
The main idea behind the test is that we all get much farther in pursuits which we naturally like and gravitate towards, and that we should try to structure our lives to do more of that which we naturally excel at and less of that which we struggle with. If you can be great at one facet of work while feeling a sense of satisfaction and enjoyment, then why spend countless hours struggling to become mediocre at something that you hate?
This book dovetails extremely well with Seth Godin's Purple Cow
, which talks about how and why to create a business that's extremely focused and only serves a particular segment of the market. Strengths Finder is about how to use your natural strengths to find quick successes, and Purple Cow is about how to tailor your strengths to perfectly serve your market.
How about you? If you had to recommend reading for new and would-be landscapers, what would you suggest?
Resources:
Read more book recommendations from gardeners of all stripes on the Five Books For Gardeners page.