Carrying on with the Five Books meme, here are my top favorites for Pacific Northwest gardeners: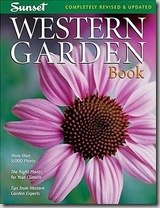 If by some magic or miracle you haven't yet got a copy of this, go out right now and get it. This is the "duh" addition to the list; it's usually the first book a person gets when they're keen to garden but aren't yet sure what to do.
The climate zones are much different than the simpler USDA Zones and cover nuances in our western climates that simple discussion of low temps can't cover. The lists of plants to use in different situations give a thorough starting point for any gardener with a difficult situation, and in the back they even cover simple garden how-to.
The most recent edition from 2007 has all kinds of improvements over the versions before – for one, we can finally just search for the name of a fruit by common name rather than botanical, which I find helpful. I KNOW Blueberries are Vacciniums, but does it ever occur to me to look there? Nope.
And the latest editions also have a small color illustration for every genus, which really helps when you can remember that the neat-o new plant at the nursery had a name that started with an S… but that's all you can remember.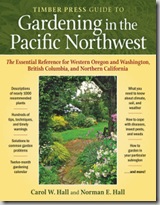 Next up is this newer gem, the Timber Press Guide to Gardening in the Pacific Northwest. This is one of those books that can be enjoyed by people of every skill level. As a pro, I loved the discussion of the regional backgrounds of the many plants that do well in our type of climate and the in-depth lists of which plants do well here, which helped me sort through which new plants at the nursery might be worth a try and which I should skip.
Newer gardeners would get a lot out of the monthly "what's going on in the garden" section, which has lists of what to do in the garden by month, and what's blooming in each month too (in case the garden seems dull during certain times, you'll know which plants to consider).
I also loved the general discussion of what gardening is like during certain times of the year. Seasoned gardeners know that fall is for ornamental grasses, asters and mums, fall crocus, and the browning heads of Sedum and Joe Pye Weed, but I think newer gardeners would appreciate having the inside scoop on what's going on in each season. Even as a pro, I refer to this book a ton.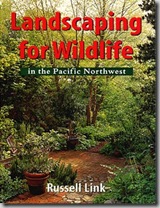 Anyone learning about wildlife gardening knows that it's a lot different from the usual good practice when gardening. For example, this book shows you how to make a pruning cut that is much more likely to rot and create an open core in the middle of a tree! Your usual pruning books don't cover that.
It also covers the wildlife you're likely to find in your Pacific Northwest garden, native plants and others of exceptional wildlife value, and the rundown on how to encourage all kinds of wildlife including bats, muskrats, squirrels, woodpeckers, and more. He also covers the more common types of wildlife to encourage, such as birds, hummingbirds, and butterflies.
I also love that he talks about respectful ways to discourage wildlife that are causing problems. Much as I do love wildlife, there are places where it is not appropriate for them to be, and this book shows how to manage wildlife problems in a way that supports their natural habits and cycles and doesn't hurt them.
This book is really due for a reprint, just because I want this to be a full-color manual. It has some photos, but it's mostly text and line drawings, and seeing gorgeous photos of wildlife gardens would really complete the text and make this even more inspiring. Still, it's the best of its kind and is tailored to the wildlife we see in the Pacific Northwest.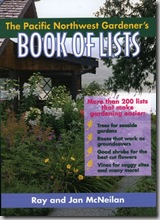 The value of this book will be immediately apparent to anyone who gardens or does landscape design. Want to know which roses have great rosehips? Which vines take alkaline soil? Which shrubs have excitingly colored new foliage in spring? This book has more than 200 lists of plants for particular situations in the Pacific Northwest.
Ray and Jan McNeilan wrote the backbone of the book, and provided many basic lists of plants for our climates. Then they asked all kinds of gardening experts and specialists for their lists of plants for specific situations. Because of that, the info isn't always 100% spot-on and you should double-check online before relying on a plant recommendation. But it's a great starting point in any research when you're selecting a plant for a tough spot or a specific design need you have, and my copy's certainly well-worn.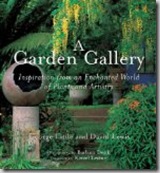 George Little and David Lewis are Puget Sound gardeners who also create gorgeous garden sculptures. This book is one of the most inspiring to look through for new and intriguing foliage combinations, and ideas for using garden art that are classy and fun but never tacky.
It feels more like an artist's journal than a traditional gardening book. David and George talk about how they place ponds, how they think about garden sculpture, and which plants they find work best with the bold, tropical look they've created in their garden.
This would be an amazing book to give as a gift because it is so much fun to just page through. The photos are delicious, and the text is easy to browse and is casual enough that it's a pleasure to read.
And a bonus book, not really on gardening:

This is an excellent book written by a Humboldt County local that gives the rundown on all the insects you'll find while gardening or exploring outdoors. Ever seen a crazy-looking beetle and wondered what it was? The photos in this book make it easy to identify them, figure out what they eat, and what the bug is all about. Enormous fun! At least I think so. Hopefully you've come to love bugs too!
What are your top Five Books?
Let me know in the comments below, and if you're a garden blogger, be sure to join in!