The American Society of Landscape Architects announced this 2010 Honor Award winner recently, and I was really shocked to see it. It's a concrete and granite playscape perfectly designed for maximum head injury.
Anyone who's ever been around kids knows that expecting them to play carefully and with grace is like expecting a kangaroo to make you a delicious slice of toast: not gonna happen.
So why this landscape architectural firm thought it would be a fun idea to stick a bunch of sharp-edged granite steps next to a steep slope of lawn that is sure to be slippery at various times of day and year, I don't know.
And that slide? It makes me want to sprint up the flat edge and try out my Shawn Johnson balance beam moves (and if I'm thinking that, you know your six-year-old would!). Of course, anyone losing their footing would have a number of unforgiving surfaces nearby on which to smash themselves.
No rail on the steps. Horizontal bars on the gate to encourage climbing and and upside-down monkey impersonations… Anyone young enough to enjoy that sandbox could be pretty easily injured by this garden.
Of course, there's another issue at play here besides just the children-with-head-injuries one, and that's the one I want to talk about today.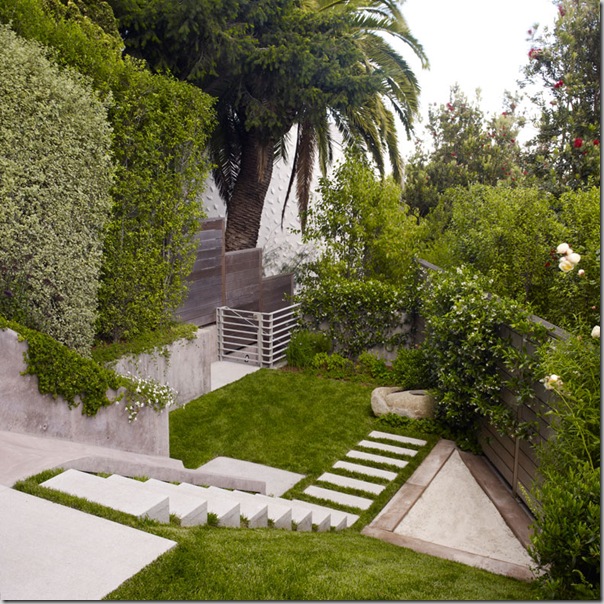 Can you imagine what it would be like running the landscape maintenance crew in charge of keeping that lawn shorn?
I can just imagine the call to Worker's Comp. "So you told your employee to stand on a steep, muddy surface with slippery lawn grass on it, wielding a 75-pound machine with spinning blades underneath, and told them to walk back and forth with it – next to some granite steps with corners so sharp you could impale apples on them? Are you kidding? We don't cover negligence!"
But it looks pretty! So it gets an award.
Seriously, this is the kind of thing that makes the world see landscape design as a frippery – an indulgence for the super rich. The lack of common sense in how the area would actually be used is inexcusable.
To me, that is the WHOLE POINT of hiring a professional designer.
Yeah, so – when we look at a garden or landscape? Angels should sing! The heavens should open with a beam of light to highlight the gorgeous brilliance of it all. Prettiness! It is important.
But the angels do not sing for head injuries and broken humans. That is not a good design element, people! Prettiness must be paired with function.
One thing that is rarely emphasized by the architecture and design peeps is the importance of good installation and maintenance. A showpiece landscape is only created and kept that way by the continuing work of highly skilled people. And those people cannot do their jobs well if the design itself is so flagrantly broken as to cause injury to those maintaining it.
I wish that a year of working on a professional landscape maintenance or installation crew were seen as an important part of training for a career in design.
I think landscape designers sometimes look down on the people who build and maintain their work, promulgating stereotypes about contractors with their butt cracks showing and maintenance crews made up of unskilled workers who can't tell a Heather from a Hemerocallis. All the while, the designers are specifying things that give the contractors and maintenance crew migraines.
What would happen if all designers and landscape architects developed strong relationships with a few installers and maintainers, and asked for honest feedback of their designs? Do you think that this designer would have taken their maintenance friend's "ohmygod-you're-kidding-me" into account and built a more realistic playscape? Or would the designer have simply said – not my problem – and gone forth?
What do you think? If you're a designer, do you modify your design with issues of installation and maintenance in mind? Did this ASLA winner deserve honors for the beauty and innovation even though so much about the function is broken? Is ease of maintenance equally as important as design innovation, or should one trump the other?
Photo credits: Marion Brenner Photography, design by Blasen Landscape Architecture