It can be hard to know where to begin in giving your garden a fresh start. Overgrown shrubs, faded patio furniture, and areas that lack any kind of visual power (beyond the "yuck" factor!) can make it hard to know where to focus our energies, especially if we know we can't tackle everything at once.
As a designer, there are a few tricks I use to simplify the process of choosing what to do first.
First, think about the views you see most often:
Do you sit on your patio a lot, or go to and from your car, or look through a particular window every morning with your tea?
Over the next few days, pay attention when you see your garden. Make a little "ping" go off in your head each time you notice your garden out a window or walk through it, and just take note of what you're feeling and seeing.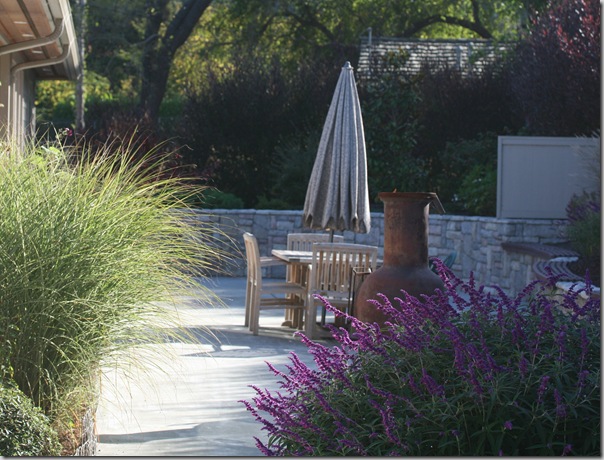 Next, calm your mind and release any ideas you may have held previously about what to do:
That flurry of activity in your mind? Not helping you gain clarity. Breathe deep and let go of your attachment to any particular type of outcome or project. You want a clean mental slate so that you can see what is, right now.
Last, step back from the areas you're considering, and blur your eyes: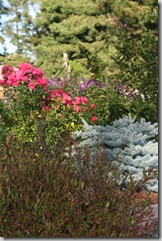 I mean, step far back. I don't want you to be able to micro-focus on to-do's or details. Once you're backed up as far as you can go, squint so hard that your eyes go blurry.
What do you see? What's the big picture? Try to listen to your first gut reactions.
Maybe a certain plant is overwhelming everything. Maybe everything's all the same height and something tall or dramatic is in order. Or maybe everything blurs into a boring amalgamation of medium green or medium-fine texture.
Don't pressure yourself to come up with solutions right away. If you focus first on seeing what is really going on with your space, and give yourself the mental room to just notice, then the solutions will come.
If you're having trouble gaining insights from the back-up-and-blur method, try taking black and white digital photographs of each area. You'll be surprised how differently you see your garden  when the distraction of color is removed. More on that here and here.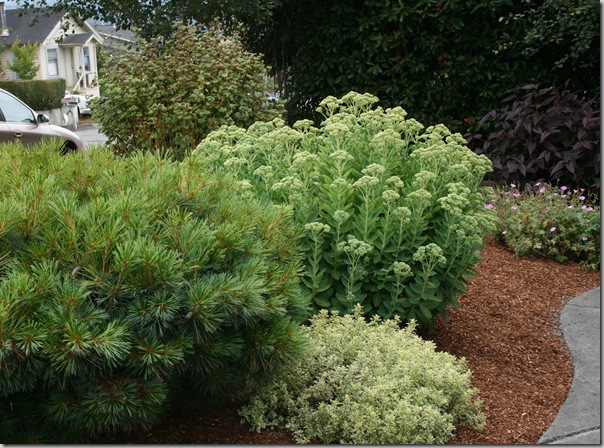 Once you've tried to see your landscape with fresh eyes, here are some simple things you can do to bring a feeling of newness to the garden:
Paint patio furniture, trellises, and structures: And don't be shy about trying out bold colors. If you hate it, just try again.
Put out a fresh layer of mulch or gravel: Nothing makes a garden look clean and cared-for like a fresh layer of wood chips, compost, or gravel. Plus, if any areas of your garden are continually sprouting tiny baby weeds, a thicker layer of mulch will help.
Remove overgrown shrubs, or prune them: If you can't decide between removal or pruning, check out Pruning and Training by Brickell and Joyce. As long as you know the name of your plant, you can look it up to see what kinds of pruning your plant will respond well to. This book can give you the confidence to dig in and renovate a mature shrub instead of just  living with its inappropriate size or shape.
Focus on edges: It's true – if you neaten up the edges, you fool the eye into thinking the rest of the bed looks neat as well. A clean line between bed and lawn can make a huge difference in how your garden looks.
Use repetition to help an area recede or become bold: Masses of low, finely-textured plants make an area feel soothing, and can make it recede into the background. Repetition of taller plants with more boldly-textured foliage can lead people's eyes to that area. This is useful if you want people to slow down along a path, look at a focal area, or feel right in the thick of things when they're sitting in your patio.
Ask for help: If you're feeling stuck on an area or issue and need a new set of eyes, garden coaches and landscape designers can bring some fresh perspective, give you confidence in your decisions, and provide innovative solutions to tough challenges.
See what other landscape designers have to say about renovation and restoration in the garden:
Andrew Keys : Garden Smackdown : Boston, MA

Carolyn Gail Choi : Sweet Home and Garden Chicago : Chicago, IL
Jocelyn Chilvers : The Art Garden : Denver, CO

Lesley Hegarty & Robert Webber : Hegarty Webber Partnership : Bristol, UK
Rochelle Greayer : Studio "G" : Boston, MA

Susan Cohan : Miss Rumphius' Rules : Chatham, NJ
Susan Morrison : Blue Planet Garden Blog : East Bay, CA
Further Reading:
Four Steps to a Fast Garden Makeover