Summer's here and you know what that means – summer cocktails, reading and lots of fun craft projects. At least that's what it means to me! 🙂 Gotta let the body rest from all the gardening we've all been doing, right?
Simple Paper Flowers, DIY Birdbaths and Scanned Flower Portraits
The DIY Wedding has a cool project showing how to make these simple paper flowers. I guess we're meant to make them for a wedding, but I dunno, I like white all the time! I love how airy they look.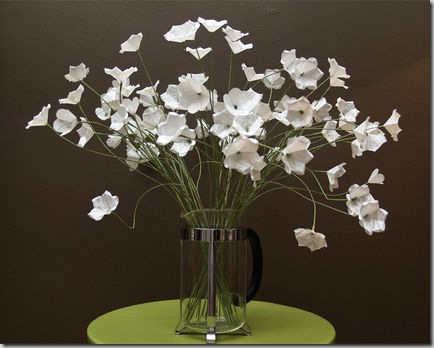 Fern over at Life on the Balcony has a great tutorial on making your own small birdbath for your balcony garden. I'm intrigued by the idea of trying to make this into a large birdbath, and I love her tip on putting stones in the birdbath so bees can drink without drowning.
Gardening Gone Wild's giving us advance notice of their October Picture This Photography Contest by showing us the technique they're gonna be using. Have you ever pressed flowers and then made cards from them? If so, you're going to dig this new idea – use fresh blooms and some fabric to make flower portraits with your scanner!
My mind's already swirling with ideas on how to use this for design clients – maybe I could pick a number of flowers from their new garden to make a unique gift for them of a custom flower portrait? Anyway, go on over and check it out. It's a great idea and looks like fun.
Garden Cocktails
With the fresh produce I'm starting to pick (basil, mint, and strawberries so far), I'm on the lookout for some cocktails that can do something with the fresh ingredients I have on hand or will, soon. Here are some ideas:
The Ornamental Vegetable Garden
Basil Mojito and Tomato Water Martini (OK guys, try the basil mojito, but I did the tomato martini and it was seriously foul. I took one for the team there, so don't follow my mistake and try that one – it was ew!)
Amy's Garden Party (OMG so good!) and Scott's Sophisticated Citrus
Lemon Verbena and Orange Blossom Fizz
and on to the Stuff I Wish I Was Clever Enough to Have Written
While agony aunts like Dear Abby are fun, they lack something in both the horticultural and humor departments. Fear not.
Amy Stewart (of Amy's Garden Party cocktail fame above) has a great column over at  Algonquin Books, Ask Dr Bleedingheart. This used to run over at Garden Rant years ago, so if you're like me and get hooked after the first one, you can go read some archives. (you're welcome!)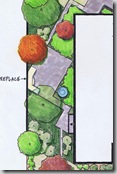 Then, Susan Morrison has written a stunningly good post about making the most of small spaces. While the trend in gardening right now is to use sweeping, organic curves, she shows how you can use straight lines for a bold, informal look that maximizes your space.
Once you've read Susan's post, check out the other excellent posts in the most recent Garden Designers Roundtable, all on the same topic. I'm still reading my way through them – lots of fantastic thoughts there.
That's all I've got, guys. Did I miss anything? Have you read anything super-cool this month? Let me know in the comments!