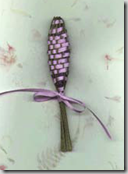 Lavender Workshop With Mary Barber
Saturday June 26th at 10:00 a.m.
Workshop Fee: $5.00
Lavender comes in a wide variety of sizes and varieties. We will discuss the best varieties to grow here and what they need to be successful. After that we will learn how to make lavender wands.
Contact Miller Farms Nursery for more details.