This morning I took my mom to an estate sale I saw advertised locally. (An estate sale, for those of you not familiar with the lingo, is a sale of someone's possessions after they've died.) I find them heartbreaking and fascinating and delightful all at once.
We put so much of our hopes and dreams into the things we own. All those aspirational purchases that reflect who we want to become (bread machines!), the worn cookbooks we'd never otherwise part with – it's all out there for the rest of us to respectfully look through and buy.
At this one, there were antique dishes, scrapbooking materials and gardening supplies (a purple Dramm watering wand!!), little felted lambs and handmade ceramics, and books! Oh, the books.
I spent nearly two hours poring over the bookshelves in nearly every room of the house. When I die, I hope some reader gives my collection the loving regard I held this one in. Gardening books, craft books, old children's books, a huge Pearl Buck collection, and old British books! (I adore old British books.)
All kinds of glorious reads there. So many of my favorite British books are the ones set in a slower time, when gardening for beauty and feeding the soul was seen as just as important as food gardening. It's not that life was any less busy then, but (at least in the literature) it seemed easier to focus on the truly important things.
I picked up two boxes of new book-friends, biting my cheek to keep from crying as I thought of the lovely person who I'd never gotten to meet but surely would have loved. Making it more poignant for me was the fact that the very sad heir had consulted with me on how to ready the garden for the home sale, and I'd heard and seen evidence of what a passionate gardener the woman had been.
I feel like I took home a little piece of her spirit in each of these books. Do you want to see a few of the things I picked out?
The Old-Fashioned Garden: Four Delightful Pop-Up Plans by Nancy Lynch and Gill Tomblin
Is there anything more delightful than the idea of a pop-up garden design book? No, I didn't think so. As soon as I saw this my mind started racing with possibilities for all the garden books on the market. How cool would Stephanie Cohen's new book be if the watercolored designs in the book were all pop-up?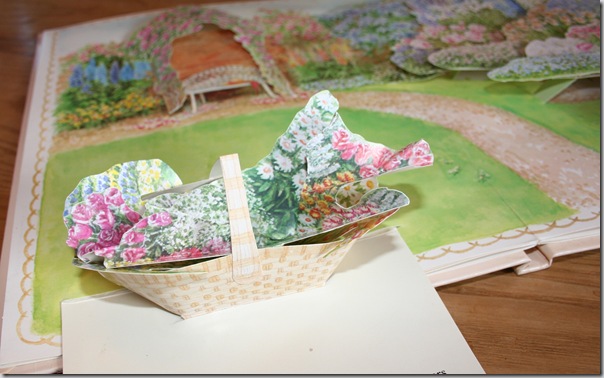 Crazy About Gardening by Des Kennedy
"Have you noticed the tendency among gardeners who specialize in certain species, a tendency to resemble their plants, the way pet owners begin to resemble their pets?

Alpine gardeners gradually shrinking into wizened little characters with brilliant smiles and tiny, glittering eyes. Iris fanciers who, even while wearing the most sensible of outfits, seem to be walking in elegant procession down the central aisle of Westminster Abbey. Do all Gladiolus growers wear Hawaiian shirts and drink too much?"
Home Ground by Allen Lacy
(Visiting a flower shop) "I asked Ed if he didn't have something else in his back room cooler – something a bit unusual. He returned with a bucket of bright crimson anthuriums, a flower that I have always considered a shocking lapse in good taste on the part of evolution.

All garish and glossy, Anthuriums have an artificial and non-biodegradable look to them, as if they had been extruded from heavy vinyl. Unmistakably phallic, they don't really belong in a good family flower shop named for someone's grandmother."
The Complete Natural Dyeing Guide (by Rug Hooking Magazine)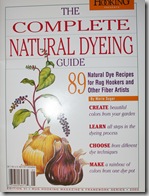 When I was in horticulture school, we regarded one of our classmates as though she were an alien species. Prim, quiet, delicate in every way, she wore old-fashioned clothing like you'd imagine a paper doll getting decked out in. She seemed unoffended by our muddy rowdiness and gamely went along with all of our gardening adventures.
Come to find out in the last weeks of our Plant ID class, she was a fashion designer who loved gardening and wanted to create her own clothes from plant-dyed fabrics. Ever since then I've been intrigued by the idea of dyeing my own fabrics. When I found this slim guide with 86 simple recipes for using common plants to make fabric dyes, I was sold.
Sacred Flowers: Creating a Heavenly Garden by Roni Jay
(On Hellebores) "Hellebore has also been used to drive away unexplained feelings of foreboding – that awful feeling that something is terribly wrong but you don't know what. Bring a vase of Hellebore flowers into the room with you and let the flowers drive away the unpleasant atmosphere and replace it with one of calm and protection."
(Do I believe in this stuff? No. Is it fun to read? Undoubtedly.)
A Wildflower Alphabet by Elizabeth Cameron
"The original name of Dandelion was 'dent de lion", which means tooth of the lion… It is still wondered which were the teeth of the lion, was it the tooth-like edged leaves or the tooth-like petals? I think the petals, because who ever heard of a lion with green teeth!"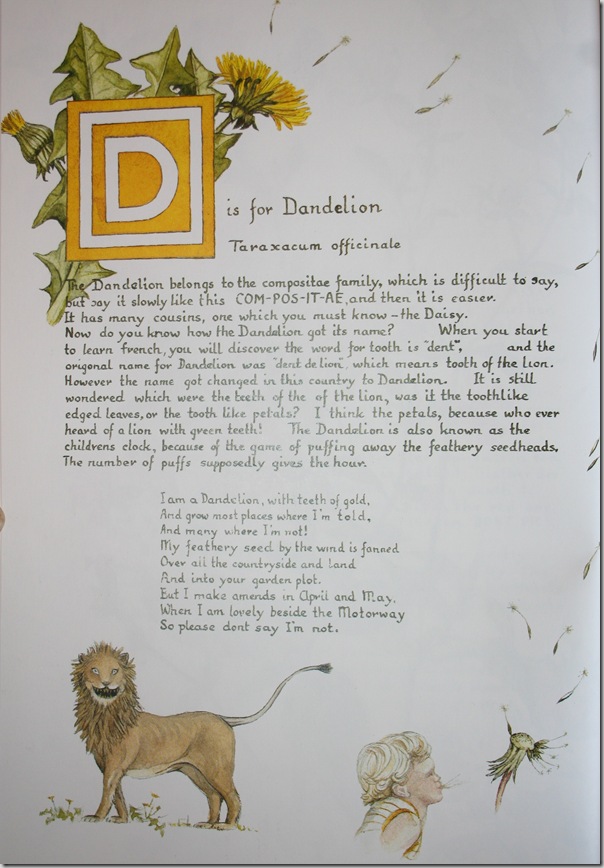 Seems the world's lost a real gardener in this woman. Rest in peace, and thank you with all my heart for the books! I will treasure them.
Love gardening books? Here are a few that I've enjoyed:
The NEW Low-Maintenance Garden Book by Val Easton