Garden Photography Advice from Saxon Holt (and a podcast with Alan Detrick)
Garden photographer Saxon Holt, who has photographed some of my favorite garden books (like Grasses by Nancy Ondra
) has a post about how he views light in the garden. If you struggle with getting a good shot of your garden, Saxon's a guy to follow. This is a favorite older post of mine about how to see the gorgeous photos your garden presents.
And on the same topic, Timber Press has a great podcast interview up with Alan Detrick about how to take better pictures in your garden.
Plant Sex with The Germinatrix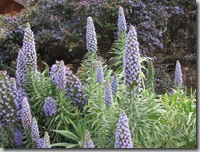 Germinatrix TV is back, and surprise surprise, Germi's talking about sex. Plant sex, that is. Pollinators, passion, and phallic plants, to be exact. It's not like we should be surprised, coming from her. After Germi's epic post on Echiums a while back, I haven't been able to look at the things with a straight face!
Germi's Echium post also provided me with my new slogan for wildlife-happy design: "Keep your garden satisfied – plant sexy!" (I'd buy the bumper sticker!)
Garden Designers Roundtable on Containers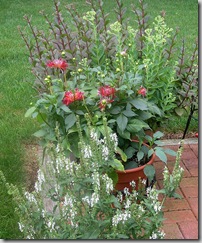 Rebecca Sweet shows off some of the creative containers she has, and has seen, in her career as a landscape designer. She even made a video about how to create a planting container out of an old metal chair!
Check out the other Roundtablers' posts about using containers creatively:
Christina Salwitz : Personal Garden Coach : Renton, WA
Debbie Roberts : A Garden of Possibilities : Stamford, CT
Jenny Petersen: J Petersen Garden Design : Austin TX
Jocelyn Chilvers : The Art Garden : Denver, CO
Laura Livengood Schaub : Interleafings : San Jose, CA
Rochelle Greayer : Studio "G" : Boston, MA
Lesley Hegarty & Robert Webber : Hegarty Webber Partnership : Bristol, UK
Scott Hokunson : Blue Heron Landscapes : Granby, CT
Shirley Bovshow : Eden Makers : Los Angeles, CA
Tara Dillard : TaraDillard.com : Atlanta, GA
How to Repot Orchids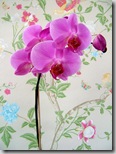 Fern over at Life on the Balcony is talking about how to repot orchids. I learned a lot from her advice, like that you should cut out "back bulbs", the bulbs that are still alive but no longer have growth coming out. If you have an orchid, go on over and bookmark her post for when you need to repot yours.
Photo credits: Echium photo from Hortulus on Flickr, orchid photo by geishaboy500 on Flickr, container planting photo by gailf548 on Flickr.