I've seen so many great articles this week that I had to share them with you all. I've been out in the garden, trying out some new tools, listening to a delightful new audiobook
and enjoying (finally!) a bit of sunshine to garden in.
While I've been outside, everyone else has been posting some great stuff…
A rare look into the private garden of two exceptional designers
Rebecca Sweet just posted a virtual garden tour of a really stunning garden: that of Freeland and Sabrina Tanner of Napa, CA. They are both professional landscape designers, and their garden has so many exciting touches – you can just FEEL who they are from looking at their garden. (I am so taken with the garden gate and the cypress arbor!)
Freeland is also an artist who specializes in "tramp art", which is to say he uses thousands and thousands of pieces of wood to create one unique piece. Go on over and check out the garden tour, and see his art. Amazing stuff.
Continuing the discussion on climate change
Susan Harris over at Garden Rant links us to a simple resource to help us reduce our carbon footprint while gardening. There are some great tips in there that I hadn't heard before, as well as some information on WHY doing those specific tasks makes such a difference.
Showing once again why my hometown rocks…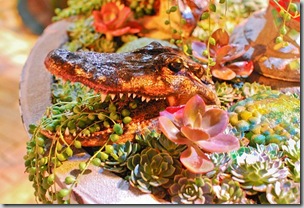 Ivette Soler went to both the San Francisco Garden Show and the Los Angeles Garden Show, and showed photos of the sad spectacle at the LA Garden Show.
Hopefully the bad press this year will inspire up-and-coming designers to really put their best foot forward and transform the garden show into something LA can be really proud of. There's a wonderful design community there! It should be an amazing show.
For contrast, here's Ivette's take on the San Francisco Garden Show. You can see it caught her imagination and gave her a lot to think and talk about, as a garden show should.
Garden designers talk about focal points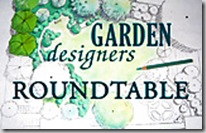 T he Garden Designers Roundtable, a collection of professional designers who blog about design topics once a month, discussed focal points for April. I don't participate again until June, but I had a blast reading everyone's entries this month. Such a diverse group of designers and everyone seems to have a different take on things.
Andrew Keys gave me some great food for thought by bringing up the idea that the neat thing about using plants for focal points is that they change season by season. Static focal points, like hardscape or garden art – well, Andrew puts it best:
If placed without care, all may kindly, persistently, CONSTANTLY request consideration by you as focal points. When I go for a stroll in my garden, I'd rather not be constantly tapped on the shoulder (like my mom's kindergarten students, "Miss Keys? Miss Keys? Miss Keys.") by elements jockeying to be the focal point.
Then, as a garden coach I was particularly interested in Susan Morrison's article on how she worked with a client who loved eclectic garden art.
It can be a challenge to integrate lots of differently-styled pieces of garden art into one garden, so it was fascinating to hear Susan's thought process as she worked with her client to create a garden that suited her personality yet wasn't too busy or scattered-feeling.
Go on over and read everyone's entries here.
And speaking of the coming zombie apocalypse…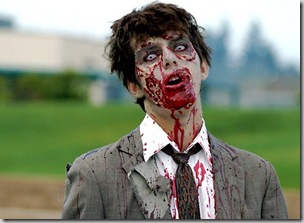 What do you mean, we weren't speaking of the coming zombie apocalypse! We should be.  They're infiltrating our literature
, t-shirts and video games (check out my review of Plants VS Zombies here).
Lucky for us, the blog Plants are the Strangest People has a list of the houseplants you'll want to be growing during the zombie apocalypse of 2014. Glad I can be prepared.
Read anything cool online this week? Post links to the awesomeness in the comments!
Photo credits: springy tulips and what-not by Robert S Donovan on Flickr, crazy alligator in a pot at the SF Garden Show from maywong photos on Flickr, zombie dude from danhollisterduck on Flickr.