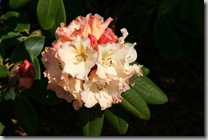 March 3-7, selected trees and conifers will be on sale 20-40% off to celebrate Arbor Day!
March 10-14, Heaths and Heathers are 25% off.
March 17-21, selected Rhodies are 20-50% off.
Things are starting to bloom gorgeously out there at Singing Tree, so if you've got a bare spot in the garden to fill, check out their sale this month!