It's bare-root season, guys, and the roses are cheap and plentiful! I've written before about how to select a bare-root rose and about some disease-resistant rose varieties for the coastal Pacific Northwest.
I wanted to follow up with some additional suggestions that our local rose expert, Cynthia Graebner of Fickle Hill Old Rose Nursery, left in the comments of one of those posts.
She suggested these varieties, many of which I had never heard of, as being both gorgeous and disease-resistant in our cool coastal climate:
Recommended Austin Roses (most Austins make good cut roses, she says!):
Leander
Recommended hybrid musks:
Kathleen
Trier
Cornelia
And some other assorted roses that do well without chemicals:
Ispahan
Lamarque
Reve d'Or
Narrow Water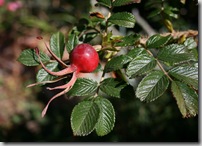 As Cynthia so aptly said – "So many good ones….why why why plant chemical dependent sad roses??"
If you're lucky enough to live locally to Cynthia Graebner (her nursery is in Arcata, CA), then you can get many of these varieties by giving her a call either now or later in the season to ask after potted roses (she doesn't do bare-root), or catch her at the Arcata Farmer's Market. She's at (707) 826-0708.
Another astute commentor, Tom of Tall Clover Farm, left his suggestions for roses that do well for him without spraying in the Seattle area:
Madame Alfred Carriere — a noisette rose, pinkish white, climber,fragrant
Sombreuil – gorgeous white fragrant confection, frgrant
Don Juan — red climber, fragrant and reliable
Francois Juranville — big rambler, thornless, once blooming but gorgeous
I enjoy Sombreuil in a local client's garden and it looks gorgeous without pesticides, and I've heard good things about Don Juan.
If you enjoy the beauty, fragrance and cut flowers of roses, but aren't into the whole spraying scene (think of the honeybees!), then check out these varieties and choose a sturdy, healthy rose that will perform for you without nasty chemicals.
If you're outside of Humboldt County or want a variety that Cynthia doesn't carry, try ordering bare-root from Regan Nursery, which has an overwhelmingly great selection and gives honest information about the performance of each of the roses they stock.
Articles mentioned:
How to select a bare-root rose
Disease-resistant roses for the coastal Pacific Northwest
Amy Stewart's excellent article about her visit to Cynthia Graebner's Fickle Hill Old Rose Nursery
And further reading for rose fans:
Rose humor – the incomparable Dr Leda Horticulture from Regan Rose Nursery