I was gardening recently with one of my employees, and she groaned in the middle of pruning a Mexican Feather Grass and said firmly, "I will NEVER plant these things at my house. Never!"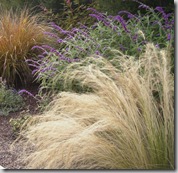 It's not a bad plant – in fact, it's fantastic – it has seasonal interest, adds a sense of motion and  life to a garden, and only needs pruning once a year – plus it's drought-tolerant, deer-resistant, and takes seacoast wind with no problem. All of us landscapers use it and love it.
The problem is that those horrible, sticky seed-heads cling to our clothes and taunt our washing machines, so we end up with itchy grass bits on the inside of our clothes for weeks! (I just pulled one out of my bra a moment ago.)
It's definitely on my list of great plants that I won't put in my own garden.
My list is full of respectable plants you could bring home to your mother, yet you get them alone and suddenly discover they shed, or smell, or do something so utterly uncouth that you simply can't forgive them, despite their other fine qualities.
I polled some landscaper friends on Twitter and on the Landscape Leadership forum to find out which plants us pros avoid in our own gardens, but care for and even suggest for clients. Benefit from our experience and ditch these badly behaving plants (or else know what to expect so you can hire out their care or otherwise deal with them properly!).
Here's the list:
Daylilies
Monica of Garden Faerie's Musings says, "After pulling out over 300 daylilies stalks a week at a client's, I hesitate planting them again in my own garden!"
I concur. How in the world Daylilies end up on low-maintenance perennial lists is beyond me, because they seem to implode into ickiness about three times a year. Plus, while they flower a lot (yay!), the flowers are so short-lived that it feels like we're constantly deadheading (boo, hiss!).
Compare the constant cleaning Daylilies need to a Hardy Cranesbill, for example, which blooms its head off and only needs whacking back once, and there's no contest as to which I'd plant. Yet people have generally good feelings about Daylilies. They're not like English Ivy where the word's gotten around.
Bamboo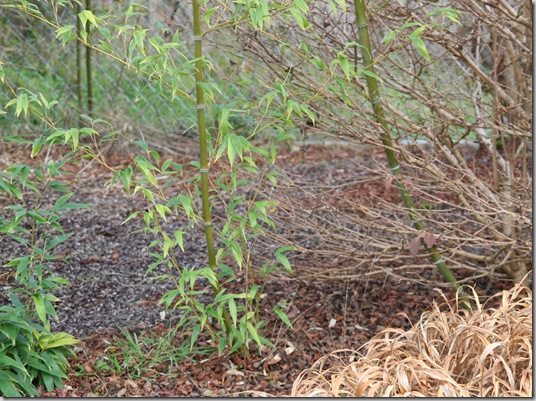 A few bamboos have proven well-mannered, like the 'Candy Cane' Clumping Bamboo with its red and green striped stems. But the non-clumper's wanderlust has ruined the reputation of the lot of them.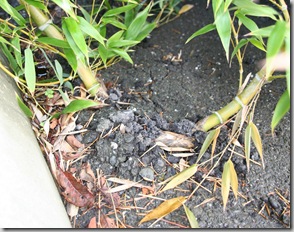 In one local company's garden, the bamboo planted seven years ago is now bursting up through  the blacktop parking lot and creating a jungle in the landscape beds. Another person tells of bamboo lifting the foundation of an apartment building.
You're supposed to plant the non-clumping varieties of bamboo in a bamboo barrier – basically a 3' deep (yes, 3 FEET deep) plastic ring that is meant to keep the roots from breaking free. But even our local bamboo expert/ nurseryman admits that in time, they'll break free.
If it was just a few running varieties that caused such problems, it'd be different. But even some "definitely, for sure" clumpers have made for the hills and ended up 20 feet away from their intended home. No thank you.
Society Garlic/ Tulbaghia violacea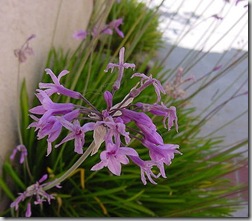 From Laura, over at Interleafings: "Tulbaghia violacea (Society Garlic); on a warm summer day I  do NOT want a garden to reek of garlic! It's too bad, because it's pretty (esp. the variegated kind)."
I remember my first gardening employer had an absolute passion for these things. We'd spend obscene amounts of time trying to pull the yellow leaves that were so visible on the non-variegated ones. Even through the gloves, our hands would stink for a week!
Laura's totally right – if you're going to plant these guys, get the variegated ones, and set them away from paths and seating areas. They aren't the good kind of fragrant.
Purple Barberry/ Berberis thunbergii
Let's get beyond the fact that they're overplanted by uncreative contractors, then sheared into shapes that make me embarrassed to share a profession with said contractors.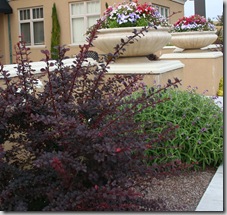 Because they're actually a pretty dashed nice plant if used appropriately in the landscape and  unpruned or pruned naturally. They're deer-resistant, have great fall color, provide food for birds, can take crap soil and all manner of abuse, and if given enough room you don't need to prune them much at all.
The problem? When you do have to prune them, or indeed squeeze past them to prune something else, those thorns are among the most sharp and painful around. There must be some kind of poison on them, because once pricked, you feel a deep bruising pain for about a week! I won't even get into the time I kneeled on a thorn and got it lodged in the side of my knee. OW-ie.
Runner-up for most painful thorns: Pyracantha, whose very name means "fire thorn". Yelp!
On a related note, some great designers have tackled the question of what garden design "rules" they break in their own gardens.
Check out these thoughtful articles here:
Does Your Garden Designer Practice What She Preaches?
Some Rules Are Meant To Be Broken
What about you? Which plants and garden rules do you think are all right for other people, but not something you'll ever want in your garden? Let me know in the comments below.
Photo credits: Daylily photo by normanack on Flickr, Society Garlic photo by artslave on Flickr