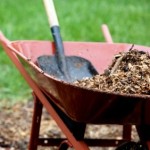 At Costco recently, I was happy to see some acquaintances coming out of the garden section, until… what in the WORLD was in their cart? It looked like bags of mulch, but… wrong somehow.
They patiently explained to this landscaper that recycled rubber mulch is the newest thing and would look very pretty in their garden beds.
I was speechless. Over the years I've prepared a number of gardening speeches to help my hapless friends make better gardening decisions – "Why that cute little redwood won't do under the eaves", for example, and "Please stick the ivy in a pot".
"Why putting ground-up old tires on your garden bed is a bad idea" is one I never expected to have to deliver. I mean, recycling old tires is a great idea, but… they don't break down, do they? And what about all the chemicals?
After sputtering some shocked words ("Think of the earthworms!"), I went home resolved to research the issue more thoroughly and find out if the stuff is really as bad as it seems. Heck, maybe there's some cool new processing trick that removes the chemicals and turns the rubber into fertilizer-holding goodness for your soil. Perhaps I was jumping to conclusions?
I was relieved to find that Linda Chalker-Scott, author of The Informed Gardener and one of the leaders in bringing a scientific approach to the often superstitious practice of gardening, had just written a piece on this subject.
I found that rubber mulches are indeed made with dyed, ground-up old tires. They aren't processed or treated in any special way to remove the harmful chemicals – they're just, well, tires.
But what's wrong with using them as mulch, you may ask? Linda says:
It's not effective: Studies have shown that organic mulches such as wood chips and straw are more effective at holding down weeds than rubber mulches.
It's toxic: Not only is it toxic to aquatic life when the runoff leaches into water, but the high concentrations of heavy metals such as zinc in tires can harm or kill your garden plants. Not convinced? Chemicals found in tires are also hazardous to human and animal health, so your rubber-mulched garden beds might not be the safest spots for your kids to play.
It's a fire hazard: Tires have some very flammable compounds in them, and prove difficult to extinguish once ignited. Turns out rubber mulches retain that same quality and are more difficult to extinguish than any other mulch.
It stinks: When the sun heats rubber mulch, it stinks. (And I don't even want to hear it about compost stinking. That's not the same and you know it!)
I'll add that part of the point of using a mulch is that it slowly breaks down and enriches the soil, encouraging earthworms and other good things to flourish. Rubber mulch does none of those things.
Go on over and read Linda's article, and if you like, you can check out the more scientifically-worded paper she wrote for the Washington State Research and Extension Center.
photo credit: www.ericcastro.biz on Flickr