I'm honored and pleased to be able to share with you the writing of my favorite garden humorist, Dr Leda Horticulture.
Regan Nursery, the finest place to buy bare root roses online, and a gorgeous full-service garden center serving the San Francisco Bay Area, has given us permission to reprint Dr Leda's articles from their rose nursery newsletter. If you have never read her writing, you are in for a treat!
Dr Leda and the Rose Snobs:
I had expected the place to  be big and ostentatious.  I was on the lookout for  a behemoth monster-mansion,  a grandiose estate embellished with impeccably groomed gardens. But what I found was an ordinary, if attractively landscaped house, in an unexceptional suburban neighborhood. I double-checked the address. Indeed, it matched the street number the speaker's bureau had given me. I shrugged and parked the car.
I had been invited to speak to the local Association of Rose Snobs, and this unlikely abode appeared to be the location for their July meeting.
I rang the doorbell and waited. I braced myself, prepared to face some kind of high-society dragon lady, a diamond-dripping, mink-clad hybrid of the Margarets Dumont and Hamilton. But the hostess who greeted me was a pleasant, soft-spoken woman wearing faded jeans and a t-shirt.
"You must be Dr. Leda!" she exclaimed with a warm smile. "I'm Marjorie. Please come in. We're so delighted you could join us today." I stepped cautiously over the threshold, scanning the floor for banana peels and booby traps. Hey, I'd been in the seventh grade; I knew better than to trust a room full of snobs.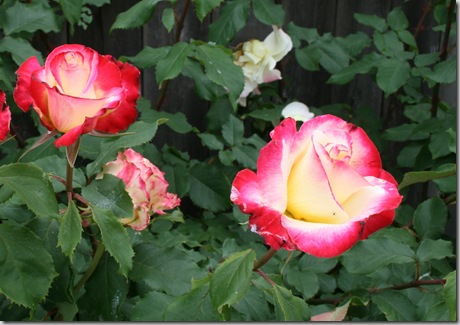 "The meeting has already started,"  my new friend whispered as she led me into a spacious, sunny living room lined with wooden folding chairs. "You'll be on right after the treasurer's report." As I stood in the back of the room, thirty people turned around and smiled at me. Several waved.
Clearly, there had been a terrible mixup at the speakers bureau.  I was obviously at the wrong convention. Who the heck were these nice, friendly people? Somewhere on the other side of town, I was sure a spokesman from the Perky Pollyanna Pharmaceutical company was handing out samples to a hoity-toity country club full of deeply mystified rose snobs.
"Have some punch and cookies, and I'll fill you in on our group's background," said Marjorie. "We're quite proud of our diversity. Our ranks include just about every type of rose snob imaginable. We have our serious exhibitors who groom their roses with nail scissors and Q-tips. They turn up their noses at casual hobbyists, and vice versa, of course. We have an impressive variety of militant organic snobs, as well as the diehard spray fanatics. That's our infamous antique rose snob clique over there," she said, nodding towards a corner of the room. "They're very rigid and bitterly divisive. Bill won't acknowledge any rose hybridized after 1790. Dorothy only approves of drought-tolerant species roses native to this zip code. Henry's garden is an exact replica of Wilma Flintstone's. They don't agree on anything."
"My goodness," I said tactfully. "They must have rather…strong opinions."
"Of course they do!" Marjorie concurred proudly. "We all do. See that woman in the red wig over there? That's Mary Frances McGillicuddy. She set her hair on fire at the last meeting because someone suggested the Austins be lumped in with the Romanticas."
I gaped politely.
"Vivian once made the entire planning committee cry when she accused them of concocting trite, mediocre bouquets that didn't qualify as true arrangements."
"Now that's Jim, our secretary," she continued, pointing to the affable looking man who was standing silently at the podium. "He's one of our most pompous spray snobs. He only sprays with restricted insecticides and over-the-counter miticides, but he won't touch any fungicides. Or maybe it's the other way around, I forget. Anyway, he's calling for a vote. Harry has moved and Louise seconded that membership in our group be denied to anyone who grows fewer than 350 varieties of roses. They're our quantity snobs."
"But Jim isn't saying anything," I observed. "Well, no, he can't," she explained. "You see, Jim's also a fragrance snob. In fact, he's been aggressively lobbying the state legislature  to pass a bill that would ban the sale of all non-fragrant roses. Anyway, we had a heated debate ten years ago over whether or not 'New Dawn' is scented, and as a result, he's not on speaking terms with anyone in this room."
"Ah!" I remarked astutely.
"Oh, look," whispered Marjorie. "Here comes Vivian, our treasurer. She's an arrangement snob. She studied the heika style of ikebana from a master in Japan for fifteen years. She once made the entire planning committee cry when she accused them of concocting trite, mediocre bouquets that didn't qualify as true arrangements." Fascinated, I watched as a silver-haired woman with merry, twinkling eyes approached the podium.
"One night last summer Vivian climbed over Tony and June Zuckerman's fence with a flashlight, and discovered they were growing zinnias in their back garden," Marjorie confided. "Zinnias! In their rose garden! Can you imagine? That's like inviting Jethro Bodine to a Mensa meeting." She turned to me and smiled. "By the way, I happen to be a companion plant snob," she said. "What kind are you?"
I cleared my throat. "I'm afraid I have something  to confess," I admitted sheepishly. "I'm not actually a rose snob."
"Oh, nonsense!" said Marjorie, cheerfully patting me on the shoulder the way you do when someone claims they haven't got a green thumb, or they can't carry a tune. "Of course you are. Everyone is. Come on, it's your turn to speak. I'll just introduce you as a generalist."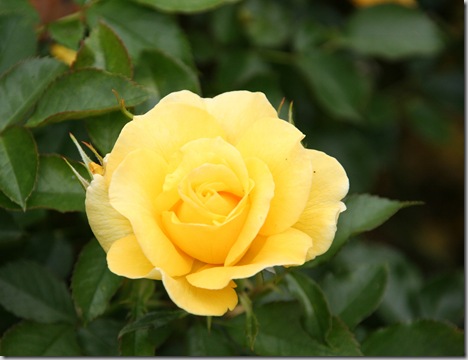 Next thing I knew, I was standing at the podium, looking out over a sea of expectant, upturned faces: the incongruously friendly, welcoming faces of the Association of Rose Snobs. I reached into my pocket and pulled out the crumpled notes for the speech I'd prepared: "Lighten Up and Enjoy Your Roses!" Well, it had seemed like a good idea at time. Now, I was fairly certain they would boo me off the face of the planet for suggesting something so preposterous. But, here I was. I'd have to ad lib.
"Ladies and gentlemen," I began. "My fellow rose snobs. I am here today to address a serious problem that is threatening Rosedom: attitude." I saw front row faces brighten with interest as a low murmur rippled through the room. "Yes," I continued. "It's true. Some of us seem to be taking ourselves just a wee bit too seriously. I'm sure you all know exactly who I mean."  Throughout the room heads began to nod in vigorous agreement, accompanied  by smug, knowing smiles. "Some of us need to lighten up and enjoy our roses for a change."
When my speech was finished, I was met with thunderous applause and a standing ovation. "You were wonderful!" Marjorie told me afterwards. "This was the first time in the  history of the Association of Rose Snobs that the whole group has ever agreed on anything!"
"Naturally," I said. "They all agreed that everyone else has an attitude problem."
"Can you stay for the  rest of the  meeting?" asked Marjorie. "We're going to be endlessly debating ways to attract new members."
"Thanks, I'd really love to," I told her. "But I'm afraid I must get home and water my zinnias."
Special thanks to Regan Nursery for allowing us to reprint Dr Leda's wonderful garden writing. Regan Nursery is the place to go if you are looking for quality bare root roses. They carry over 1000 varieties of grade #1 roses each year.
Be sure to stop by their nursery in person if you'll be visiting the San Francisco Bay Area – they have a great selection of Camellias, Hydrangeas, Japanese Maples, as well as their legendary selection of roses and a full array of nursery plants.
If you liked this Dr Leda article, you'll enjoy these too:
Dr Leda Horticulture: Match Made in Heaven, or Match Made in Hell? The Darker Side of Companion Plants
Dr Leda Horticulture: Welcome to the Institute of Rude Awakenings
[print_link]