Read to the end of the article to find out how you can win an autographed copy of Wicked Plants!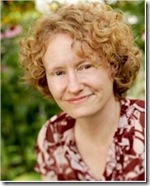 Y'all know by now what a huge fan I am of Amy Stewart and her writing. As a plant geek, I love how accurate she is about the plants' details (so many writers get basic plant info just plain wrong), and the way she brings the human and plant worlds together makes her books good reading even for people who don't have a particular interest in plants.
Amy talks about how she chose which botanical lowlifes to profile in her latest book, Wicked Plants:
I looked for plants that had an interesting backstory. There had to be a victim–a body count. If a plant killed someone famous, like Socrates or the mother of Abraham Lincoln, I included it. If it was involved in a notorious murder case, like that of serial killer Dr. Thomas Neill Cream, or if it had attacked a person in a particularly gruesome way, it made the cut.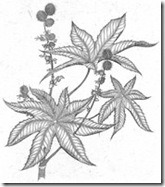 One of my favorite stories involves a plant I love but can't have – the Castor Bean (etching at left is from the book!). While the seeds are poisonous enough that three or four of them can kill you (eeek! Not in my garden…), there is an innocuous oil made from the seeds that is a useful laxative. In all the old-fashioned stories, naughty children who eat too much candy are treated to a dose of castor oil, and they run in horror from Mother and her measuring spoon of oil.
What I didn't know is that in the 1920's, Mussolini's guys acted out similar scenes with their dissidents – chasing them down and pouring castor oil down their throats to inflict them with a nasty case of diarrhea. Amy quotes Sherwood Anderson as saying:
It was amusing to see Fascisti, wearing black shirts and looking very earnest, bottles sticking out of their hip pockets, chasing wildly down the street after a shrieking Communist. Then the capture, the terrible assault, hurling the luckless Red to the sidewalk, injecting the bottle into his mouth to the muffled accompaniment of blasphemy of all the gods and devils in the universe.
Deliciously wicked, no?
I've been reading Wicked Plants all week before bed, and while I'm happy to report there have been no nightmares, unfortunately my loud snickers have gotten the book banned from the bedroom, at least when the Mr is trying to sleep. Sorry, sweetie!
If you're a fan of Amy's as well, or just have a taste for the weird and wicked, check out this local talk Amy did about the stars of her new book. I love her energy, and if she's coming to your town during her book tour, you don't want to miss her!
Want to win an autographed copy of Wicked Plants?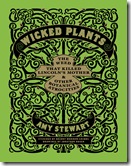 I bought one fresh off the press at Amy's local book launch party and had her sign it for one lucky reader. For your chance to win, simply tell me about your favorite wicked plant (define that any way you like – poisonous, goth, invasive, annoying – whatever!) by leaving  a comment below.
On May 20th, I'll choose one lucky reader at random. You must either live in the US or have a US shipping address to be eligible to win. Good luck!
Check out Amy's movie trailor for Wicked Plants here.