Brrrr!!! In rainy Humboldt County, February's usually the month my garden assistants turn to me in shock and say – "uh, I think the weeds are stuck!" The first time I tried to pull frozen, crystallized weeds out of the ground, I was pretty surprised, too.
This year, February's been glorious – a bit wet, yes, but warm and with sunny patches in between the clouds. I was just getting enthused about the early year we've had so far, and gleefully wondering just how early I could get away with planting my tomatoes, when we get this frosty cold March day, with more to come this week. I guess I'll be planning from indoors just a bit longer!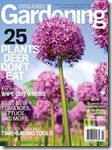 Luckily, You Grow Girl let us know that Google Books now has the last three years worth of Organic Gardening Magazine available to read online for free. A tip: the "magnify" button is in the top middle of the viewer, so you can read them full size. I don't know why they make the "magnify" button so tiny – it's like printing text instructions for the blind!
Doug Green has posted a great article on Vegetable Seeding Dates, so if you're keen to get going, you can see what to start now and what you want to wait on.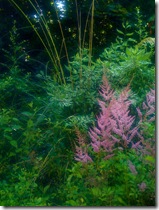 I'm a sucker for shady perennials – I just love the delicate bellflowers, the poof of Astilbe flowers, and all the wild kinds of foliage available. Graham Rice, over at his RHS Blog, has posted recently on a few new shade introductions – foliage-interest Astilbes and a wild new Brunnera!
Astilbe 'Beauty of Ernst' or Color Flash Astilbe is a pale pink bloomer which emerges green in spring and turns a purply-red through the season, ending with golden-orange-red fall foliage.
Astilbe 'Beauty of Lisse' or Color Flash Lime Astilbe starts out with vivid golden foliage, blooms pink, then greens up through the season. I think the color would look awesome in a tropical-themed garden, or just brightening up a shady area.
Brunnera 'King's Ransom' or King's Ransom Siberian Bugloss is the child of 'Jack Frost' Brunnera, a silvery-leaved shade favorite with blue forget-me-not flowers, only 'King's Ransom' has a creamy-yellow edge to the leaves which makes it stand out beautifully in the garden!
Brunnera does have some sensitivity to snails, like Dahlias and Hostas, but overall they are a good deer-resistant shade plant.
And in the not-actually-new but new-to-me category we have Epimedium 'Sakura Maru', a really cool blushed white variety of Fairy Wings. I love the way Epimediums bring early spring beauty to the garden, and they are so tough, blooming for me in clay soil, with lots of root competition from trees, and in neglected corners. Thanks to Teza for showing off this beauty.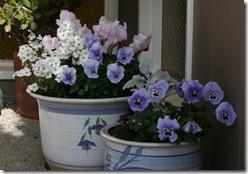 Have you been indulging your urge to garden this winter by growing in containers? Do you have a container gardening tip to share? Fern over at Life on the Balcony is running a contest for you to win six packets of Botanical Interests Seeds.
Just go on over and leave your container gardening tip in the comments for a chance to win!
Also, Darla over at Family and Flowers is giving away her very own homemade soy wax jar candles! Simply comment on her post for a chance to win.

Lastly, remember those hollow resin rocks that people used as hide-a-keys for so long? They fit right into the landscape, so long as you were planting plastic flowers next to them! You can toss your plastic rock now – over at the gadget blog Zogdo they've featured a new sprinkler head hide-a-key which I doubt any burglar would notice. Get yours here.
Have you found any cool gardening articles around the web (or written something awesome yourself)? Feel free to share the best in the comments below!