I keep hearing it around the internet – an indignant exhaustion with the stereotype of gardeners as elderly ladies, puttering about their rose gardens with flowered gloves on.
Maybe the sensitivity comes from the fact that most gardeners are in the over-40 crowd, and don't want to be prematurely aged by their passion. I can understand that.
But speaking for the younger crowd here, I LOVE the stereotype of the elderly gardener! I admire my older clients who have stayed vital and fit through gardening, and any association with those silver-haired charmers is OK by me.
Seriously, who doesn't have a soft spot for those energetic older ladies with a keen eye for pruning, and a wicked zucchini-chocolate cake recipe to hide some of those bazillion zucchinis we end up with each year?
I think it's fun to imagine myself someday in an outsized gardening hat, wrinkles aplenty, with beautiful mature shrubs and a trail of grandchildren racing about my lawn. That's why I came up with:
Five reasons I adore older gardeners!
1. They are open to trying new things, but not swayed by the latest trends unless they actually work.
Older gardeners often have enough money to try the newest plant introductions, but they are ruthless about ripping them out if they don't perform. They haven't got forever to mollycoddle that delicate beauty into being happy – and why should they, when they've discovered so many sturdy plants over the years!
Likewise with new techniques – my older gardening friends take a long view of gardening practices, so don't mind trying a new product or way of doing things for a year, but if they don't see results, then it's back to the tried-and true.
2. They are fit, energetic, and right in the thick of things.
When I think of older gardeners, I think of someone who's kept fresh and vital with being active in the open air. I know twenty-year-olds who aren't as fit as my seventy-years-young clients!
All that activity's good for the mind, too. My older gardening friends are also avid readers and love to learn new things. There's always something new to try in gardening, and I think that excitement about trying new things in the garden crosses over to the rest of life.
3. They are thrifty and can teach us a lot about sustainability.
Most of our older gardeners have lived through the Great Depression, and so they have plenty to teach us about stretching our dollar. Why buy fertilizer when your friend has a horse? Why buy a new plant when you can divide the one you've got?
My Dad tells me he couldn't take my Grandma Lillian anywhere without her disappearing into someone's yard and returning triumphantly with a snipping of some new plant. Her purse always had scissors and a baggie ready for such occasions.
4. They love to share their knowledge.
Garden personality Susan Harris talks a lot about the importance of regional gardening advice, and older gardeners are the best source there is. Heck, they've often been gardening for over fifty years in the same climate!
Try it: corral a friendly-looking retiree in the perennial section of your local nursery and ask them what really works, and what they'd never plant again. Bet you a buck their advice on what to try will outlive the suggestions of the whippersnappers working there!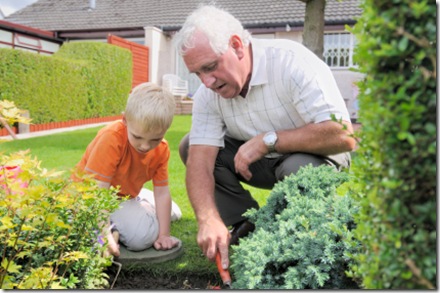 5. They show the new generation how joyful gardening can be.
Parents are so busy putting food on the table and wiping up spills that they don't always have time for the blissfully slow processes of gardening, especially not with a small helper who wants to "weed" one's new veggie starts and "prune" that peony we've been jollying along.
But Grandma and Grandpa have a little more time to give. Read about how Fern's Grandma helped her learn to love gardening by giving her some easy-to-grow and fun-to-watch cuttings. Now Fern's such a passionate gardener that she has her own container gardening blog!
You know what older gardeners need?
They need their own action figure, so we can all revel in the super-awesome-coolness that is the older gardener. Hey, it worked for librarians, didn't it? Action figure model Nancy Pearl's the epitome of cool, comfortable shoes and all.
So who's your favorite older gardener? Is it Grandma or Grandpa, or a neighborhood friend who always has a cutting to share? Tell me in the comments below.