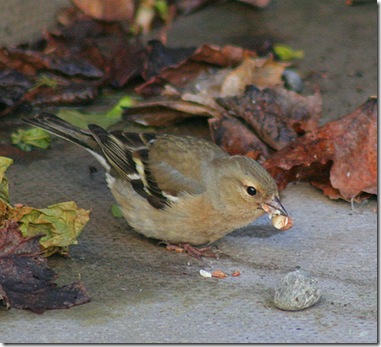 We've covered my favorite trees and larger shrubs to attract birds; now I want to talk about some of the smaller plants to bring the birds and hummingbirds flying to your garden. These are just a few of my favorites to use as a starting point – there are so many gorgeous small shrubs, perennials, grasses and annuals to attract birds, it'd be impossible to cover them all!
Ornamental grasses provide winter seeds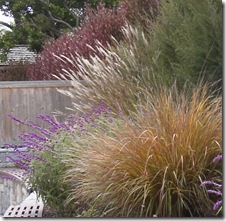 Most ornamental grasses, like Miscanthus, Pennisetum and Stipa, provide  seeds to your neighborhood birds during the toughest time of the year – winter. The flower-plumes appear above the foliage in fall, and all winter you can watch the birds scratch at the soil for leftover seeds.
My favorite ornamental grasses for the birds?
Pennisetum alopecuroides 'Moudry' or Black-Flowering Fountain Grass, has unusual plumes which look great against plum-colored foliage plants.
Miscanthus transmorrisonensis or Evergreen Miscanthus is one of the prettiest and lowest-care grasses out there, with its reflective green year-round foliage and coppery purple plumes. This is the only Miscanthus I know of that needs zero winter pruning.
Stipa gigantea or Giant Feather Grass makes a bold statement near water features, boulders, or within a flowing perennial bed. The foliage only reaches 2' tall, but the flowerheads can top 6'! I love the way the waving flowers bring a sense of motion to the garden.
Vaccinium ovatum and parvifolium or Evergreen Huckleberry and Red Huckleberry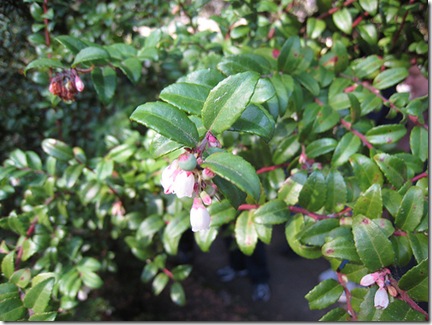 What bird list would be complete without mention of our local birds' favorite natives, the Huckleberries? The Red Huckleberry (V. parvifolium) is more beloved by the birds, but it's also larger and more unruly than its relative, so I only suggest these in wilder settings.
The regular Evergreen Huckleberry, or V. ovatum, can hobnob with the best of your highly-bred garden beauties. The pretty red new growth and attractive habit make it easy to nestle in around Hydrangeas, Japanese Maples, and our native Flowering Currant.
The black berries are tart and make a great jam (with sugar!), but they're such a pain to pick that the birds get them most years. They'll get some size to them in time, but I've kept them around 3-4' for many years with little effort.
Purple-leaved Weigela florida – spring nectar for hummingbirds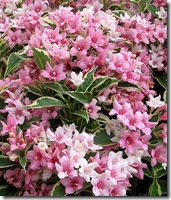 We're all familiar with the old-fashioned Weigelas at left – but the last few years have brought us some really neat new purple-leaved varieties. All need full sun to stay purple, are deciduous, and have bright pink flowers in spring. From smallest to largest:
Weigela florida 'Elvera' or Midnight Wine Weigela has amazingly rich purple foliage. It gets to 2' and has bright pink flowers in spring. I think they look especially cool with cream variegation or blue-toned foliage.
Weigela florida 'Dark Horse' or Dark Horse Weigela has a deep bronze color to its leaves. It's a 3-footer, and that bronze color looks great with lush, interesting greens, like that Evergreen Miscanthus or with a Tree Fern in the (shady) backdrop.
Weigela florida 'Java Red' or Java Red Weigela is the largest and greenest of the group, but the color still makes a bold statement. Its foliage has a strong bronzey-purple cast, and it can reach 6'.
Sedum 'Autumn Joy', 'Autumn Charm', and 'Autumn Fire' or Hardy Stonecrop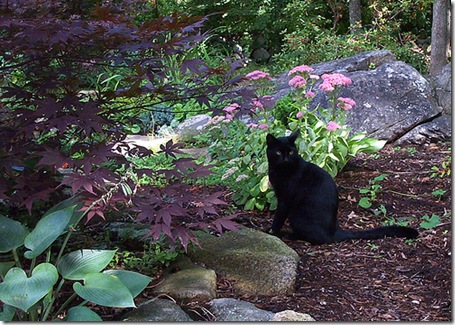 Sedums have long been a staple of the low-care perennial garden, and no wonder – they bloom at the end of summer and early fall, when everything else is winding down, and their finished brown flowerheads go so nicely with the fall color and winter beiges. Not many plants are so graceful in death.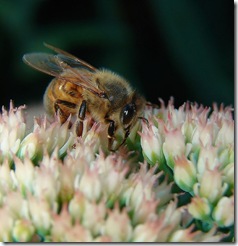 The reason I love them is that they feed such a variety of birds and insects!  The honeybees come in droves and cling cheerfully to the flowers, and if the hummingbirds and butterflies can get in, they like the nectar too. In winter, the birds fly to the brown flowerheads and eat the seeds.
The honeybees are very gentle and have never stung me, even when I've brushed past quite roughly or had to prune off errant blooms, but I like to plant these guys at least five feet back from walkways just in case.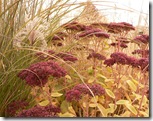 Sedum 'Autumn Joy' is the traditional one that looks so great with grasses and Black-eyed Susans, but it does have the tendency to flop with the first rains – not so good if you are leaving the brown seedheads into the winter for the birds.
Sedum 'Autumn Fire' solves this problem with shorter, sturdier stalks, and the fading flowers are more coppery than brown, which is a bonus.
Sedum 'Autumn Charm' is a showy cream-variegated version which adds that extra season of spring/ summer foliage interest. It's still a bit floppy, but you can fix that by pinching out all the growth tips in early summer (this works great for 'Autumn Joy' too).
Nigella damascena or Love-In-A-Mist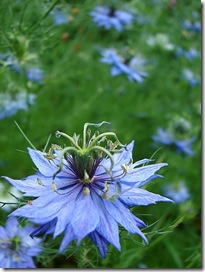 So, I don't do many annuals. I like them in pots, and if I notice a bare spot as things go dormant I'll tuck a few in, but as far as actually leaving bare garden space all winter while I wait for the annual's season again? Not so much.
Nigella is my exception. I love the watercolor blues and purples of the traditional ones, and there's also the gothy white one with blackish-burgundy centers – 'African Bride' or 'White Bride's Veil', depending on your source. The plump, striped seed pods on all varieties add as much interest as the flowers!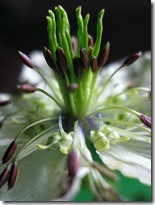 The birds snarf down my Nigella seeds all winter, but no matter – enough seeds sneak by that I have a lush crop every year.
You can get Nigella in six-packs at the nursery, but why bother when they are so easy to grow from seed? Just sprinkle them someplace sunny in spring and leave them be.
(A note to adventurous eaters – Nigella damascena seeds aren't the ones used in Indian and other ethnic types of cooking – that's Nigella sativa – so leave the seeds for the birds!)
I hope this gives you some inspiration for your own bird garden. Stay tuned for the next installment – the best nectar plants for hummingbirds!