Winter interest is the Holy Grail for us gardeners, and we spend an inordinate amount of time planning out which cool foliage plant or winter bloomer we'll tuck in.
Don't get me wrong, I'm a sucker for that year-round interest too – but there is another source of excitement during the darker months – birds!
During the growing season, much of the birds' liveliness is obscured by leaves – we hear rustles and chirrups but can't quite see what they're up to. Winter's bare branches and dormant perennials give us a fantastic view of them scratching at the soil for bugs and seeds, and playing in the shrubbery.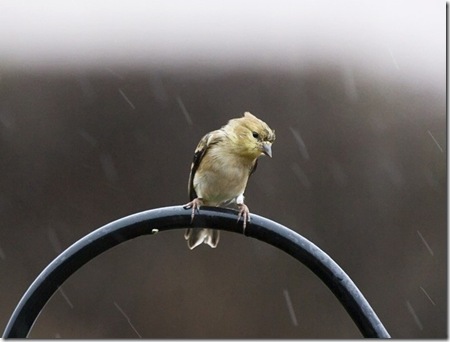 So how do we attract birds in the winter?
Bird feeders:
The winter cold makes the birds need more calories, just at the time of year when there's less food available.
You can set a feeder under the eaves, or get a weather dome so the seeds don't mold in the rain.
Try to match your feed to the birds you see in the neighborhood, because bags of mixed seed usually come with filler seed like red millet, oats, milo, or wheat, which nobody really likes (except the raccoons!). Specialty stores have premium mixes with just the good stuff in.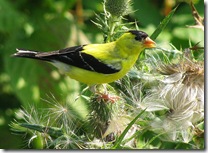 I've been thrilled to get goldfinches with a Nyger seed feeder (I call Goldfinches Lemonbirds of Doom because when they are flying, they look like fat little lemons with black wings!). I've even considered growing thistles in my garden to make them happy (you can tell I'm a fan!).
White millet is the cheapest seed around and is favored by sparrows, among others, and safflower seeds bring the chickadees.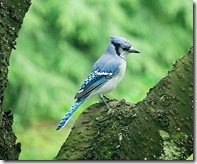 People in country settings should try oil sunflower seeds (the black ones  without the white stripe, which are highest in calories and least messy), which are good for any number of birds, including bluejays, woodpeckers, chickadees, titmice and nuthatches. I haven't had any luck with them right in town – the seeds just sit – but feeders that are surrounded by wilder land are enthusiastically emptied!
A suet feeder is another way to bring the birds around in winter, particularly in areas that snow, since the cold kills a lot of insects and removes that food source. Check out Aerie-el's birds loving her home-made suet, and look in the comments for her recipe.
Bird baths:
Water isn't the toughest resource to find here in rainy Humboldt County, but if it freezes in your neck of the woods, a heated bird bath is a simple way to keep your bird friends coming back to your garden.
In summer, water can attract species of birds that eat fruit and bugs, and so wouldn't come to your feeder. I love to see the birdies floof up their feathers and flap in the water to get clean!
Birdbaths should be on a pedestal for most birds, no deeper than 3" in the center, and have a rough texture so their footing feels secure.  Fountains or baths which splash or sprinkle water are especially attractive and will even lure the hummingbirds in for a drink!
So where do you put your bird bath and feeder so they'll get used?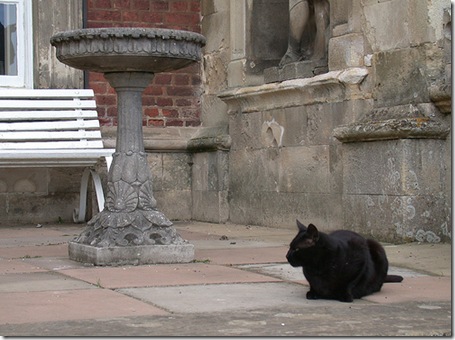 Neighborhood cats love the birds' show as much as we do, so you'll want to put your feeder and bath someplace open where the birds can see 5-10' around, so no  ambitious felines can sneak up on them. I like to put baths near pathways or lawns, because we usually don't plant anything too tall near the borders anyway.
Overhanging branches within a few feet are nice too, because then birds can take quick shelter if they are disturbed.
Don't forget to think about your own enjoyment when placing them! For example, could you put a feeder near the kitchen window so you can watch them while doing dishes?
Lastly, place them close by so they are easy to fill with water or seed.
But hel-lo, this is a gardening blog, can't I just plant something?
No worries, I'm getting to that! I simply have too many favorite bird-attracting plants to list them all in one post, so in the articles listed below I'll talk in depth about my number-one picks for birds.
If you'd like to read more, check out the rest of this series below:
Small Shrubs, Grasses, and Perennials to Attract Birds
Nectar Plants to Attract Hummingbirds
Container Plants to Attract Birds
Who visits your garden?
What birds come to your garden, and what do they seem to like best? Tell me in the comments below.